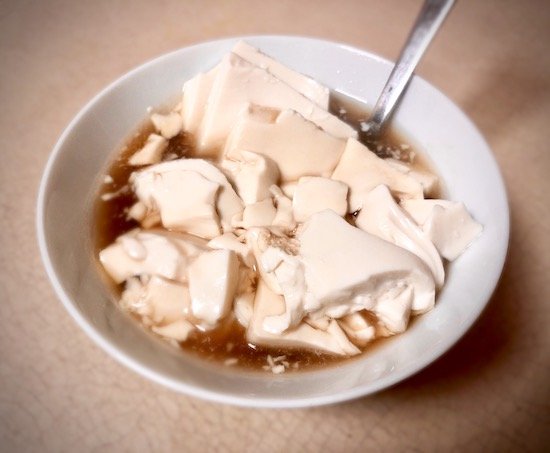 Ever miss those ready-made silken dessert tofu packages they sell in most grocery stores? There is a Filipino version of it that is easily adaptable to a sugar-free, keto-friendly form called "taho", which is a heated dessert of silken tofu in a simple syrup. This is my low-carb version of it.
Keto Filipino Silken Tofu in Syrup Recipe
Ingredients:
Directions:
To make the arnibal (the syrup), combine the Swerve Brown, water, salt and vanilla in a small saucepan and heat over medium-high heat. Bring to a boil, stir to dissolve the Swerve, and lower heat to a simmer. Continue simmering for about 2-4 minutes and remove from heat and cover until ready to use.

Place silken tofu in a microwave-safe bowl and heat up the tofu on high for 1-3 minutes, depending on the power of your microwave.

To serve, scoop slices of warm silken tofu into a small bowl or cup. Pour hot arnibal on top. Serve warm.
Did you make this keto warm silken tofu in syrup (or "taho") recipe? If so, please let me know how it turned out in the comments. Or if you share pics of your creations on Instagram, please tag me so I can see them. Enjoy! :)