I was recently chatting with a young Japanese woman I met through work. I asked her how she had fared over the course of the pandemic. Like many people, she had come to re-evaluate her life in some way. In her case, she was deeply considering what home was for her.
My friend told me that despite having lived in Canada for a few years, it hadn't really come to feel like home. But when she went back to visit Japan, she found that her home country didn't feel like home either, despite having grown up there. She resolved to figure it out, saying: "I need to find the home in my heart."
Asking What's Truly Important
I loved the poetic way my friend had worded this. The idea of "finding home in your heart" intrigues me as a concept, as the pandemic is slowly transitioning into endemic status. The pandemic forced us all to be locked down, to minimize contact with other people, and to avoid travel. It represented a loss of freedom, connection, leisure activities, and for many on top of those, physical and mental health, as well as financial stability. As we all faced the fears, isolation, and uncertainties brought on by the pandemic, many used this time to look inward, trying their best to make the most of this forced down time, myself included.
After having cut so much out of my life, I started thinking about what things I missed most, having gone without for so long. I'm sure the conclusions to which I came mirror those of many, but I'll share them here, if only to take the time to pause and reflect on the lessons I'm taking away as we slowly emerge from the pandemic.
Family First
Not being able to easily travel back to Ontario during the pandemic was by far the worst part of it for me and Chris. Both of our families are in Ontario, with most of our family member residing in Ottawa. As soon as we were able, we made trips out to see them, not having seen them for nearly 2 years. Finally getting to be with them in person was one of the most joyous experiences I can remember in recent years.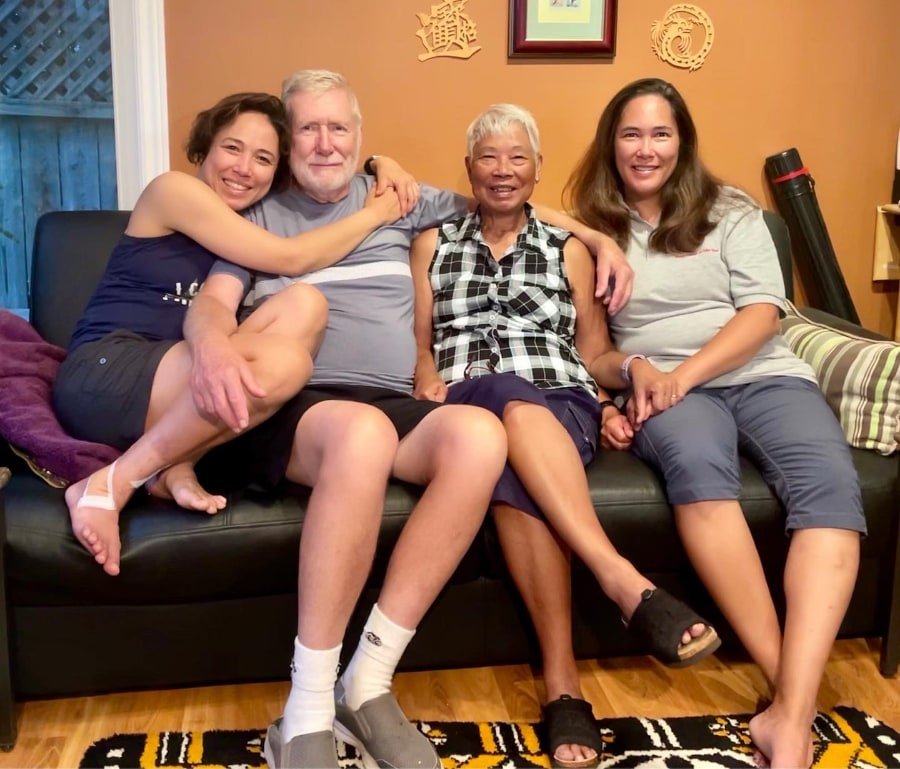 The pandemic also reinforced how well-suited Chris and I are as life partners. I know that being forced to lively in each others' pockets has caused many couple to part ways, and while the pandemic did push our limits, with both of us unable to work for 6 months at the start of everything, we managed to band together and find ways to support each others' mental and physical health, while finding ways to enjoy ourselves too, both at home and by going on local adventures in nature.
But family isn't limited to literal family. Many people are closer to certain friends than they are to those of whom they are related. I have a handful of close friends with whom I became even closer over the duration of the pandemic. We would check in with each other, do Zoom or FaceTimes, and support each other however we could.
Our feline family members became even more important to us during the pandemic. We spent more time playing with them, cuddling, and bonding with them. Having taken an interest in the show, "My Cat from Hell," we even decided to foster a semi-feral cat named Jimmy, wanting to do something positive with our time during which we were locked down. It was time well-spent, and we, of course, ended up adopting him into our family in the end.
The Kindness of Neighbours
Truly realizing the few people in the world that are most important to us in our lives was one thing, but we also realized that the people that live in our direct neighbourhood became more important to us than ever before. Unable to see people in person conveniently turned the incidental interactions with neighbours in our townhouse complex into short respites from long bouts of solitude. We started engaging more in impromptu, physically distanced conversations more enthusiastically than ever before. And at the points when restrictions loosened, we all started to host backyard gatherings so we could enjoy each others' company even more.
Beyond the social benefits, we also did our best to take care of each other in our own different ways, whether it was doing runs to the grocery stores for those who were immune-compromised, or checking in on people who were spending longer bouts of time on their own. A few of the households in the complex with whom we are friends share a tradition of setting up birthday flamingos in each others' backyards when someone is celebrating a birthday. One family even painted a bunch of rocks and shared them with everyone in the complex. I still keep mine in my entryway to remind me of the friendship we share with our neighbours.
Before the pandemic, I didn't realize how important it was to me to be closer to my neighbours. I had gotten used to not knowing my neighbours, having lived in apartments for most of my time in the Vancouver area. These relationships made me realize how rewarding it was to not only know your neighbours but also to develop friendships with them, looking out for each other in ways that are reserved for those who are live close by.
Community and Connection
When it came to my own personal sanity over the course of the pandemic, community and connection were vital. Being an extrovert, made the particular important for me, but even introverts (like Chris) need their people that they can go to, in their own introverted way. One of his favourite ways to reach out to his other introverted friends was his weekly gaming group. They would meet online to play a game, but they also took the time to check in with each other as well. Moving forward, I will definitely prioritizing my connection to the people that matter most to me, while fostering my overall sense of community.
In part 2 of this blog post, I'll talk continue to explore this topic moving on to how I found the home in my heart in my work and long-term career development.