Chris and I have been together for 11 years, married a little over 9. As with many couples, when you've been together for a long time, it's easy to get into a sort of relationship holding pattern. While one's early relationship is full of new experiences and personal discovery as you ride the roller-coaster of emotions of getting to know each other, after you've been together a while, you start to lose the sense of excitement that comes with exploring uncharted territory. For many, it's what leads relationships to go astray, as people seek out that missing spark. I for one have decided to find new ways to keep it lit. Hence the start of our new "couple quest."
What Is a "Couple Quest"?
Over the past few weeks, I've been reading The Happiness of Pursuit by Chris Guillebeau, a book about how anyone can bring more joy and meaning into their life with a quest, whether that quest is visiting every country in the world, circumnavigating the globe by boat, or sighting every bird in the world. This thoughtline behind personal quests gave me the idea to start a quest with Chris as a couple, to add novelty to our relationship, to give us something regular and ongoing to look forward to doing together, and to help us come up with new and interesting ideas for dates.
Our Chosen Couple Quest
I proposed the idea that once a month, Chris and I go on a couple quest date together. We alternate who plans it, but the components of the date must include the following:
1. Eating a food we've never eaten before. This can be a kind of cuisine, a food element, a dish, a packaged food, anything at all so long as neither of us have ever had it before and we are not making it ourselves entirely from scratch. This last detail is there to encourage us to go out to new restaurants or stores so as to increase the novelty.
2. Doing something we've never done before. This can be something big, like trying a new activity or sport, playing a new kind of game, getting some sort of treatment (like a pedicure or couple's massage) or it can be something small and playful, like catching minnows at a lake.
**Our First Couple Quest Date
We went on our first couple quest date just this past Valentine's day, a fitting day to start. Since this whole thing was my idea, I planned the first one. I decided to keep it a surprise for fun.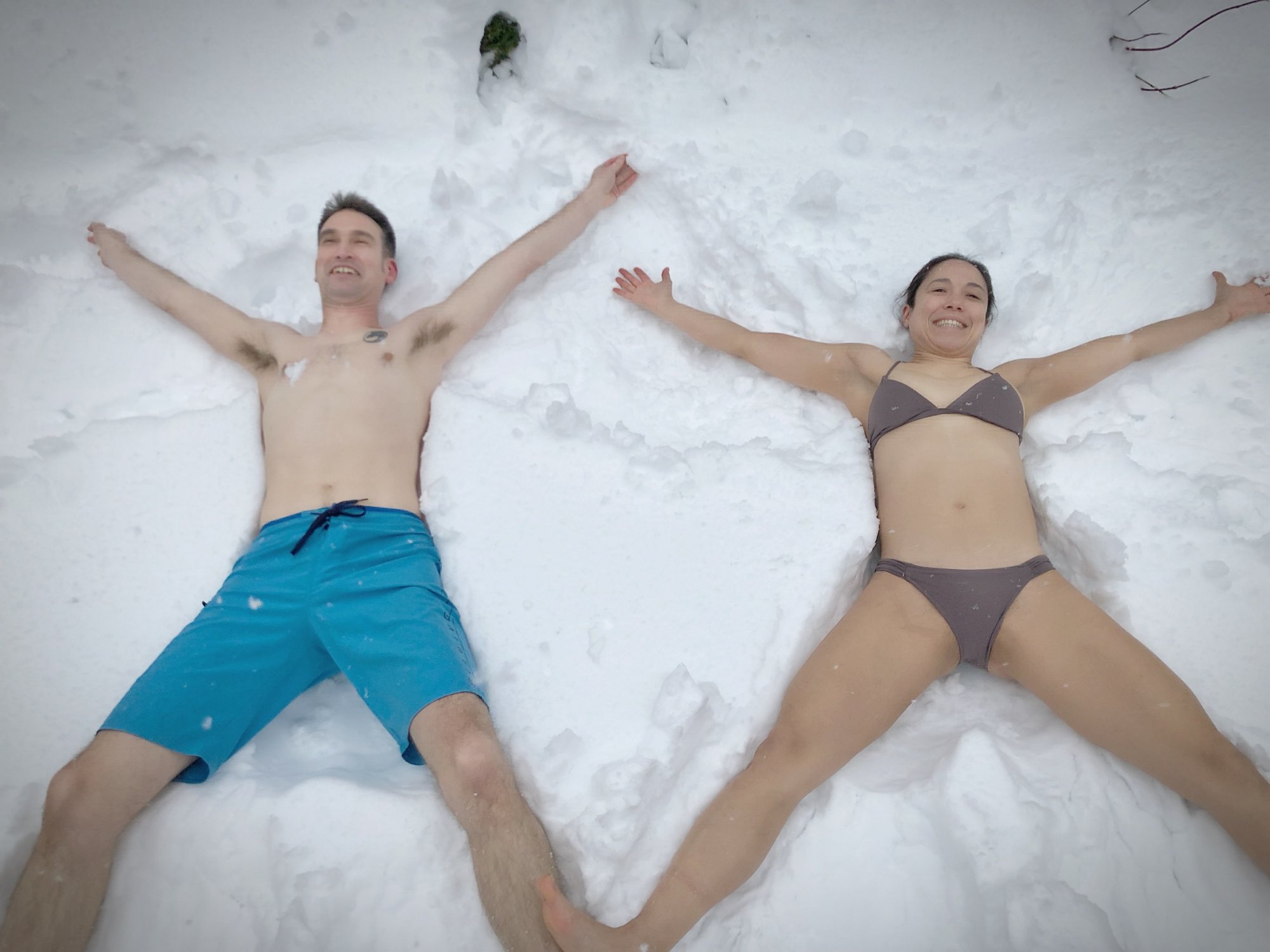 Since I was getting home from work in the late afternoon, I decided to make the new experience something quick that we could do close to home: making snow angels in our bathing suits. We don't usually get much snow where we live in the Vancouver area of Canada, and we had gotten quite a bit of it over the past week. In fact, it was snowing pretty heavily when I got home from work. I wanted to take advantage of the snow somehow, so that's how I came up with the idea. I started up our infrared sauna and had it all heated up so that as soon as we finished, we could jump in and warm up. It was silly and fun, and definitely novel. We worked together to devise a plan to minimize the discomfort of getting in the snow. We psyched ourselves up and then went for it, laughing at ridiculousness of it all the whole way. It was hilarious!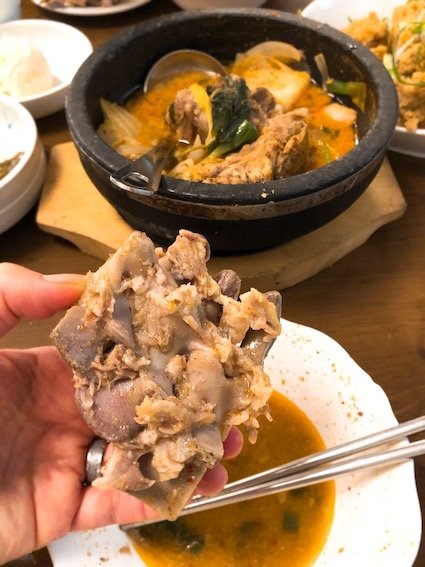 For the food portion, the first two restaurants that I had earmarked happened to be either closed due to unforeseen circumstances or they weren't serving the dish I had expected. Fortunately, I had a third back-up. We ended up going to a local Korean restaurant in Surrey called Bon Ga Korean Restaurant. The never-eaten-before-food that we ordered was spicy pork backbone stew. Neither of us had ever tried a stew made from spinal bones before. I'll write a separate keto restaurant review blog post about the details of the food experience, but the main point is that it was something that we might have ordinarily shied away from trying due to it's somewhat obscure nature (for us). But having the quest in mind led me to seek it out for its novelty. I know this will sometimes mean we won't like what we get, but the point is for us to be open to new foods and to experience them together. Luck was with us this time, and the stew was fantastic!
The Ongoing Adventures...
While Chris Guillemeau advocates having clear goals in his book, something that lets you know when you have accomplished your quest, I prefer to keep it more open-ended as that's how relationships are inherently. The journey is more important than the destination. But if I was going to put any sort of end goal on it, it would simply be to maintain the quest until we want to change it. If we do change it, a discussion will be had, and we'll choose a new quest. I know that sounds a little anti-climactic, but that's what makes the most sense for us, just keeping up the habit. :)
Thinking about introducing a couple quest into your relationship? What will that involve? Please share your ideas in the comments to help spark ideas for others. :)