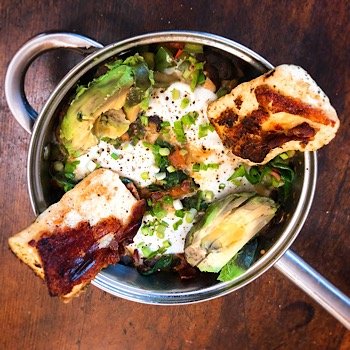 Lentils are always a healthy choice for carb-ups, but combine them with black kale, toasted cashews and cumin seeds, along with briny olives and feta and you get a flavourful salad with an array of textures that make your mouth sing. Who says carb-up meals have to be boring?
French Lentil and Kale Salad Recipe
Ingredients:
Directions:
Add kale to a large bowl, season with salt, and massage until kale is silkier, softer, and darker in colour, around 1–2 minutes. Using a vegetable peeler or paring knife, remove three 3" strips of lemon peel (avoiding white pith); reserve rest of the lemon for your salad dressing.

Bring a large pot of heavily salted water to a boil over high heat. While you're waiting, prep the spiced oil. Add white parts of the green onions, garlic and lemon peels to the skillet. Pour olive oil into skillet and stir so that all of the ingredients in oil.

Add soaked lentils to the water once it's boiling and a few dashes of salt, reduce heat to medium, and simmer, uncovered, until lentils are tender but still al dente, 3-4 minutes. Be careful not to overcook them or they'll get mushy. Drain well.

While lentils cook, heat skillet with oil mixture to medium-low. Occasionally stir, cooking the mixture until the lemon starts to peel and the garlic browns. This should take about 3 minutes. Add cashews and cook, stirring frequently, until browned, about 3 more minutes. Remove from heat and stir in the cumin seeds and red pepper flakes. The residual heat from the oil is enough to bring out their flavour of the spices.

Strain mixture through a fine-mesh sieve into a small bowl, shaking to help oil drain. Reserve oil for the base of the salad dressing. Spread cashew-cumin seed mixture on a paper towel-lined plate. Season with salt and allow to cool so the cashews become crispy. Discard the lemon peel and garlic.

Add olives and reserved green onion greens to the bowl with kale, saving some for serving. Add the juice from the lemon and season with salt to taste.

Add lentils to bowl along with infused oil and half the cashews and toss to combine.

Divide salad into serving bowls. Garnish with remaining cashews, green onions and feta and serve. May be served warm, at room temperature or chilled.
Did you make this vegan carb-up French lentil and kale salad recipe? If so, please let me know how it goes in the comments. Or if you share pics of your creations on Instagram, please tag me so I can see them. Enjoy! :)