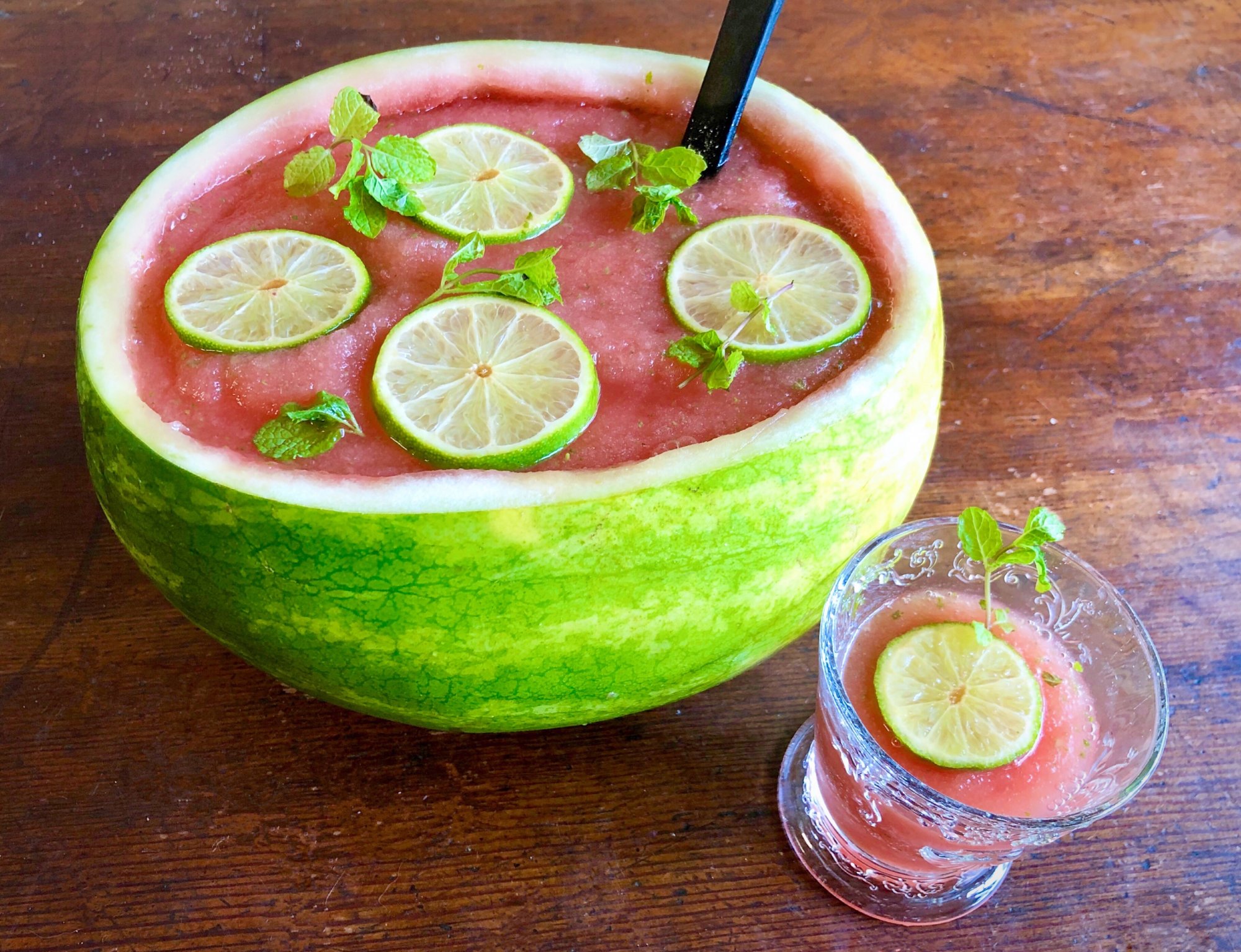 It may be the end of summer, but there's still time to enjoy the fruits of the season in boozy form, like this sugar-free frozen watermelon white wine sangria. Watermelon is highly complementary with white wine, brandy and lime. Mint is also a strong pairing, giving it a fresh, summery lift. This recipe was a hit at my local neighbourhood BBQ last night and I, for one, will definitely be making this beautifully presented party starter again some time.
Keto Frozen Watermelon Sangria Recipe
Ingredients:
One 750ml bottle dry pinot grigio or unoaked sauvignon blanc wine, chilled
2 cups brandy
8 cups seedless watermelon, chopped and frozen
6 tablespoons lime juice, freshly squeezed
3 small limes, sliced
½ cup mint leaves, chopped (plus more for garnish)
3-4 tablespoons Lakanto granulated monk fruit sweetener (or to taste)
Hallowed out watermelon (for use as a punch bowl)
Directions:
In a small mixing bowl, toss together the brandy, sweetener and lime slices. Cover the bowl and refrigerate overnight.

When ready to serve, add half of all the sangria ingredients, including the brandy sweetener mixture, but not the lime slices. Pulse until smooth. Pour into a hallowed our watermelon or punch bowl. Repeat with the remaining half and add to your chosen punch bowl. Stir in lime slices and garnish with a few sprigs of fresh mint leaves. Serve immediately. When pouring, try to ladel a few lime slices in each glass.
Did you make sugar-free frozen watermelon white wine sangria recipe? If so, please let me know how it turned out in the comments. Or if you share pics of your creations on Instagram, please tag me so I can see them. Enjoy!