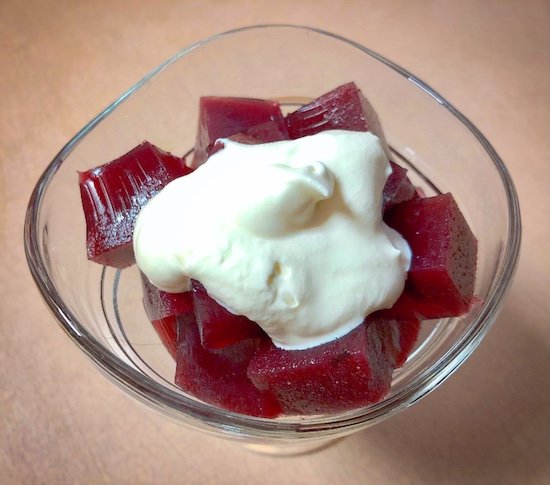 I love jello as a light, sweet snack, but packaged sugar-free jello is usually full of the bad kinds of sweeteners and the ones that aren't are pricey. So I figured, why not make my own and infuse it with healthy fruit and herbs for flavour to make it more nutritious. It turned out way better than any boxes jello I've ever made and nearly as easy too.
Keto Fruit and Herb Infused Jello Recipe
Ingredients:
Directions:
In a saucepan, add 1 cup cool water. Sprinkle gelatin over the water. Let bloom. Combine 1 cup boiling water and dried herbs in a mug or Mason jar. Let brew.

Meanwhile, add blueberries and remaining 1 cup of cool water to blender. Purée until as liquefied as possible. Strain out the seeds and/or excess pulp with a fine mesh sieve and discard. Set aside the blueberry juice purée.

Strain brewed tea into the saucepan where the gelatin is and whisk in sweetener. Heat over low to medium heat, if necessary, to completely dissolve the gelatin and sweetener. Once dissolved, remove from heat.

Add raw cider vinegar, lemon juice, sea salt, and blueberry juice purée. Stir well to combine. Taste to adjust sweetness/tartness. Add more cider vinegar or add liquid stevia drops. if desired. (*If you don't have liquid stevia, you can add more Lakanto, but you might need to heat it up again to get it to dissolve.)

Pour into 8x8" baking dish. Refrigerate until firm (about 2-3 hours), then cut into squares.
Did you make this keto fruit and herb infused jello recipe? If so, please let me know how it turned out in the comments. Or if you share pics of your creations on Instagram, please tag me so I can see them. Enjoy! :)