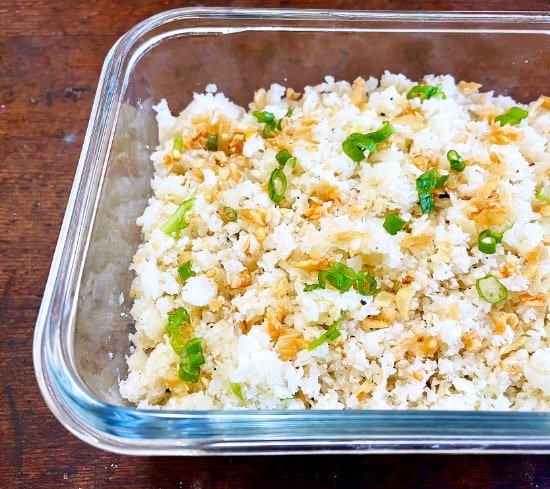 Simple garlic fried rice is a staple in a lot of Filipino meals, but in my mind, it is a crucial component of the Filipino breakfast. I won't lie to you. The real deal has a texture that is simply impossible to replicate using cauliflower rice, but it's worth doing even if it's just to capture the flavour association I have come to expect. Sure, you can just use regular steamed cauliflower rice as a side if you're feeling lazy, but if you want to kick up your Filipino breakfast or brunch a notch, it's worth putting in the effort to make it.
Vegan Keto Filipino Garlic Friend Cauliflower Rice Recipe (AKA - Sinangag)
*Ingredients
Directions:
Heat avocado oil over medium heat in large skillet or wok. Add garlic and cook until garlic begins to brown. Remove garlic and set aside for garnishing at the end.

Stir cauliflower rice into the oil and cook until heated through. Season with salt and pepper. Remove from heat then garnish with cooked garlic and green onion before serving.
Did you make this vegan keto Filipino garlic fried cauliflower rice (sinangag) recipe? If so, please let me know how it turned out in the comments. Or if you share pics of your creations on Instagram, please tag me so I can see them. Enjoy! :)