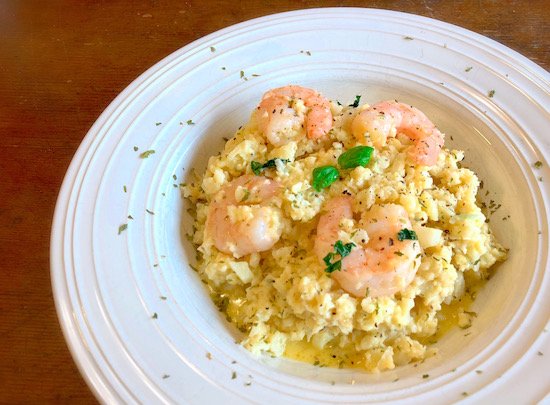 Garlic shrimp in a creamy cauliflower rice risotto makes for a complete, low-carb meal you can enjoy any time of year. Easy to make for weekday night meals, but delicious enough to be served as a "treat meal."
Keto Garlic Shrinp Cauliflower Rice Risotto Recipe
Ingredients:
4 cups cauliflower rice
400g large prawns, peeled and deveined
½ cup (4oz) unsalted butter
½ teaspoon sea salt
6 cloves garlic, minced
2 tablespoons lemon juice, freshly squeezed
½ cup fish bone broth (*Or chicken bone broth if not pescatariam)
¼ cup heavy cream
½ cup dry white wine
¾ cup parmesan cheese, grated
2 tablespoons fresh parsley, finely chopped
Flaky sea salt (like Maldon or Fleur de sel and freshly ground freshly ground black pepper (to taste)
Directions:
Bring the stock to a boil and set aside. Melt butter over medium-low heat in a large skillet. Add shrimp, stirring occasionally, until they start to change colour. Add garlic and lemon juice and fry for an extra 1-2 minutes. Remove shrimp and set aside.

Add cauliflower rice, half the wine and half of the stock. Allow to simmer uncovered until the liquid starts to boil down. Pour in the remaining wine and stock. Add the cream, and simmer until the cauliflower is soft and most of the liquid has disappeared.

Remove from heat and add in the shrimp then stir in parmesan cheese and parsley leaves. Garnish with lemon wedges and serve.
Did you try this keto garlic shrimp cauliflower rice risotto recipe out? If so, let me know how it went in the comments, or tag me in any photos you share on Instagram so I can see your creation. :)