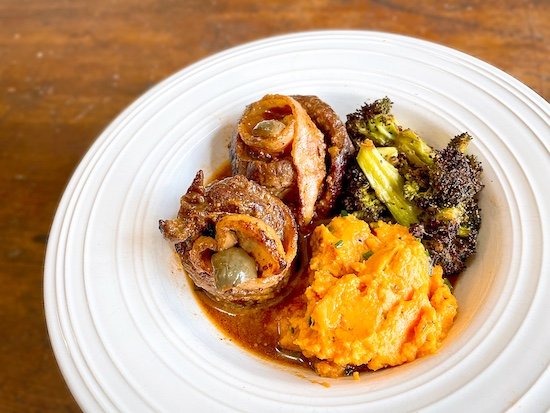 I wanted to do something different with some round beef I had kicking around and found the concept of the beef rouladen. With European origins, the recipe made its way to Canada through German immigrants. There are different ways to do it, but they all focus around rolling up flattened beef steaks that have been pounded thin, including various ingredients in the roll. I went with grainy mustard, bacon and a dill pickle spear. Then the whole thing is seared then cooked in a Dutch oven with gravy. It's a neat-looking dish to serve for Oktoberfest or any German-themed meal.
Keto German Beef Rouladen Recipe
German Beef Rouladen Ingredients:
4 boneless round steaks, pounded thin, ¼ inch thin and about 5x9"
4 tablespoons grainy mustard
8 slices bacon
½ cup onion, finely diced
4 probiotic baby dill pickle halved or larger dill pickles quartered.
2 tablespoons ghee or unsalted butter
Gravy Ingredients:
Instructions
Around 12-24 hours before you plan to eat, sprinkle the steaks with kosher sea salt then return to the fridge uncovered When you're ready to prepare your meal, take the steaks out of the fridge and allow to come to room temperature while you prepare other ingredients (should take around 20 minutes). Pat dry with paper towels. (*If you aren't able to do this ahead of time, take them out and salt them 40 minutes beforehand instead.)

Preheat oven to 350F. Sprinkle inside round steaks with pepper and a sprinkling of paprika. Spread 1 tablespoon mustard over each piece then place two pieces of bacon over each piece of beef, side by side, trimming any part of the bacon that extend over the ends if you prefer a clean look. Scatter each with diced onion, dividing evenly between the four pieces.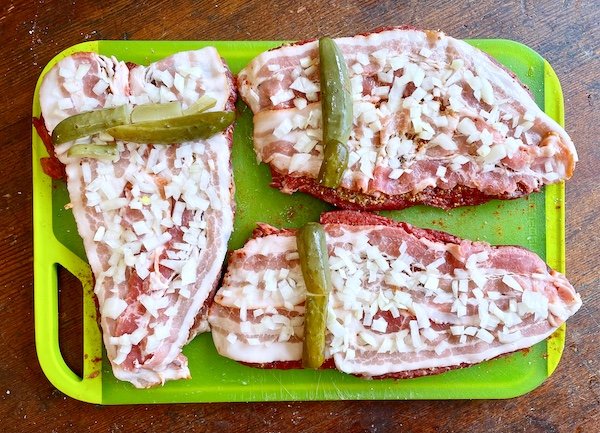 With the widest end of the short side facing you, place two pickle halves end to end about 1½" from the end. Take the end closest to you and fold it up and over the pickles. Continue rolling by lifting and rolling until it is fully rolled. Use a skewer and secure the end of the roll to the main part of the roll to keep it from unrolling. Trim any excess pickle sticking out the sides so it is even with the sides of the roll. Roll up the remaining beef pieces.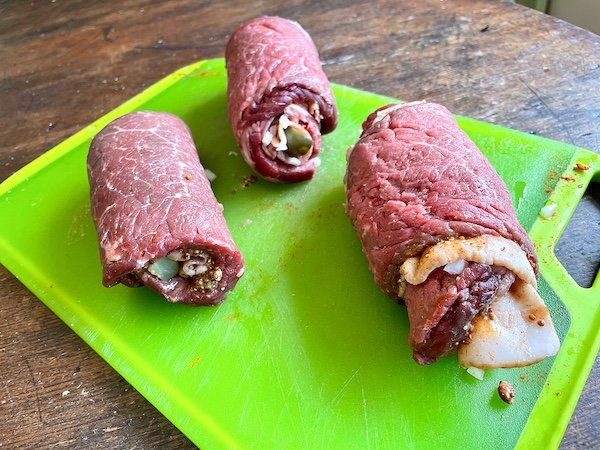 Whisk together the gravy ingredients in a medium bowl and set aside. Heat ghee over medium-high heat in a Dutch oven or large, heavy bottomed, oven-proof dish with a lid. Add the beef rolls to the pan, skewer/seam side down. Sear for a couple of minutes until lightly browned, then flip over and sear the other side. Place the rolls on their sides if necessary to sear the entire outside of each of the rolls.

Once rolls are browned, add the prepared gravy mixture to the pan. Stir gently to scrape up any browned bits on the bottom of the pan. Bring liquid to a boil over medium-high heat, then cover pot and place in the preheated oven.

Cook, covered in the preheated oven until tender, about 1-1½ hours (depending on the size of your rolls), flipping rolls over a couple of times during the cooking period.

Remove pot from oven and use tongs to remove rolls to a plate. Carefully remove the skewers from the rolls and discard, then cover plate loosely with foil while you thicken the gravy.

Place pot on the stovetop over medium-high heat. Whisk together oat fibre and cold water in a small bowl and add to liquid in pot. Bring mixture to a boil, stirring, until thickened. If necessary, add a bit more oat fibre/water to gravy if not thick enough. Taste gravy and add additional salt, pepper and paprika, to taste.

To serve, cut rolls in half diagonally in the middle. Serve with a side of mashed rutabaga, spooning gravy overtop. Garnish with chopped parsley, if desired.
Did you make this keto German beef rouladen recipe? If so, please let me know how it turned out in the comments. Or if you share pics of your creations on Instagram, please tag me so I can see them. Enjoy! :)