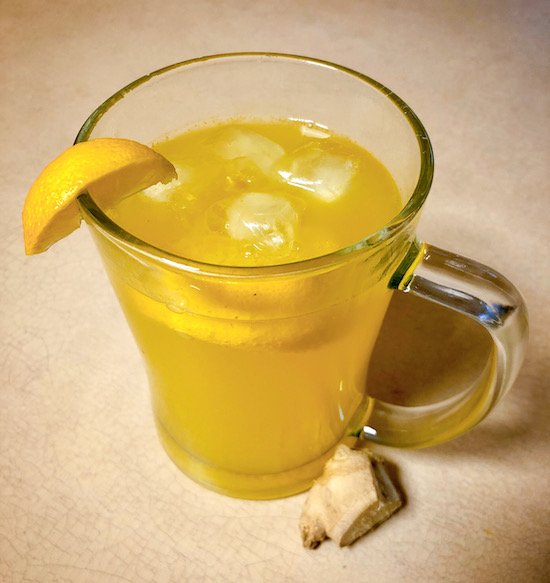 Sometimes you just want to have a drink that's enjoyed for taste. But wouldn't it be nice if that drink were also healthy? That's how I came up with this keto-friendly ginger turmeric cider vinegar tonic recipe. I blend a whole bunch of ginger pieces along with one small piece of turmeric (and a couple of cracks of black pepper to activate it) into a puree and then filter out everything but the juice. Combine that raw cider vinegar, carbonated water and a few drops of liquid stevia and you enjoy a delicious fizzy drink every day while patting yourself on the back for your healthy choice.
Keto Ginger Turmeric Cider Vinegar Tonic Recipe
Concentrated Ginger Turmeric Juice Ingredients:
2 cups fresh ginger, washed and chopped into 1" pieces (no need to peel)
One 1" piece turmeric, washed
A couple of turns of freshly ground black pepper
1 cup of water
(*Note: If you don't like the taste of the turmeric, you can put less, use a pinch off ground turmeric or leave it out altogether.)
**Tonic Ingredients:*
Directions:
Combine ginger, turmeric and black pepper into a high-speed blender (*I use a Blendtec Blender.) Pulse until puréed.

Strain the purée using a fine strainer. Pour this juice into a glass bottle and store in the fridge until needed.

To prepare a drink, add 2 tablespoons of the concentrated juice, cider vinegar, liquid stevia drops and carbonated water to a large glass. Squeeze lime or lemon wedge into the glass. Stir gently, add ice if desired, and serve.
Did you try this keto ginger turmeric cider vinegar tonic recipe? If so, let me know how it went in the comments, or tag me in any photos you share on Instagram so I can see your creation. Enjoy!