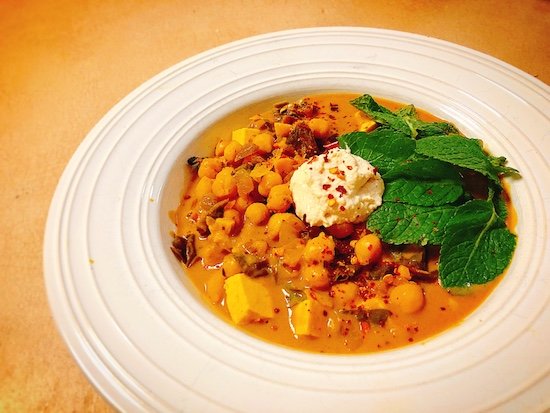 I was looking to cycle in different kinds of healthy carbs for a recent carb-up, and by way of a hearty chick pea stew chock full of immunity-boosting ingredients, so I threw together this bright, soul-warming ginger turmeric spiced chick pea stew. The tangy ginger turmeric blend combined with a spicy zing from the jalapeño and a touch of sweet from the coconut oil and milk accents the variety of textures coming from the chick peas, tofu, hearty greens and mushrooms. Healthy and low-fat never tasted so good!
Carb-Up Ginger Turmeric Spiced Chick Pea Stew Recipe
Ingredients:
2 teaspoons coconut oil
4 garlic cloves, chopped
1 large yellow onion, chopped
One 2" piece fresh ginger, peeled and finely chopped
Sea salt and freshly ground black pepper (to taste)
One 2-inch piece fresh turmeric, peeled and finely chopped (*or 1 teaspoon ground turmeric
2-3 tablespoons pickled jalapeño pepper, chopped, plus a few sliced more for serving
One 15-ounce can organic chick peas, drained and rinsed
175g firm tofu, diced
1 cup white mushrooms, diced
2 cups unsweetened coconut beverage
2 cups vegetable broth (*Or bone broth if not strictly vegetarian)
1 bunch of Swiss chard, collard or mustard greens, stems separated and chopped, leaves torn into bite-size pieces
2 tablespoons lime juice
2 teaspoons lime zest
2 tablespoons nutritional yeast
1 cup fresh mint or cilantro leaves, for serving
Garnishes: Non-fat greek yogurt or coconut milk yogurt, red pepper flakes (*optional)
Directions:
Heat coconut oil in a large pot over medium heat. Add garlic, onion, ginger and turmeric root (if using fresh turmeric). Season with a big pinch of sea salt and pepper and cook, stirring occasionally until onion is fragrant then add the mushrooms and leafy green stems. Sauté until the onion starts to brown a little around the edges.

Add chick peas (and ground turmeric if not using fresh), and season with salt and pepper. Cook, stirring frequently, so the chick peas fry up a bit in the spices and oil, until they've started to break down and brown up a bit, around 8-10 minutes. Remove around 1 cup chick peas and set aside for garnish.

Using a wooden spoon or spatula, further crush the remaining chick peas slightly to release their starchy insides and help thicken the stew. Add coconut milk, lime zest, lime juice nutritional yeast and broth to the pot, and season with more salt and pepper. Bring to a simmer, scraping up any bits from the bottom of the pot. Continue to cook, stirring occasionally, until stew has thickened and flavors have developed, around 30-35 minutes. If you want the stew thicker, keep simmering until you've reached your desired consistency.

Stir in the leaves from your greens and cook until they wilt and soften, around 4-7 minutes, depending on what you're using. Season again with more salt and pepper.

Divide among bowls and top with a dollop of coconut or non-fat Greek yogurt, mint, reserved chickpeas, a sprinkle of red-pepper flakes if desired; dust the yogurt with a little ground turmeric for a nice visual effect if you like.
Did you make this low-fat carb-up ginger turmeric spiced chick pea stew recipe? If so, please let me know how it turned out in the comments. Or if you share pics of your creations on Instagram, please tag me so I can see them. Enjoy!