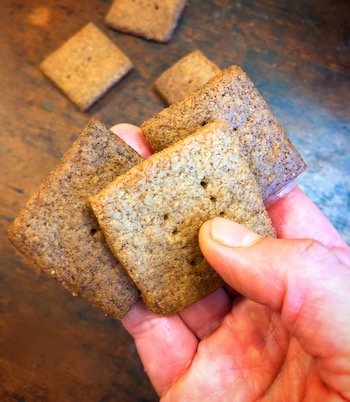 As an avid camper living a keto lifestyle, I have been wanting to solve the s'mores dilemma for quite some time by putting together my own preferred keto graham cracker, marshmallow and chocolate recipes. With the birth of this graham cracker recipe, I have now ticked all these boxes and will make s'mores while camping with them. Even without the marshmallow and chocolate, these are a great lightly sweetened crackers you can snack on any time.
Keto Gluten-Free Graham Crackers Recipe
Ingredients:
Directions:
Add almond flour, xanthan gum, salt, baking soda, and cinnamon to a medium bowl. Whisk until thoroughly combined and set aside.

Cream butter in a large bowl with an electric mixer on medium-low until fluffy, around 2-3 minutes. Add in erithrytol and continue to beat until thoroughly incorporated.

Add in egg, liquid stevia, blackstrap molasses and vanilla extract, mixing until just incorporated. The mixture will be a little crumby, not fully smooth.

With your mixer on low, add in half of your flour mixture and mix until just incorporated. Add the remainder and continue to mix until just incorporated.

Wrap cookie dough with plastic wrap and refrigerate for at least an hour (or up to 3 days). The dough can also be frozen for up to 3 months.

Preheat oven to 350°F/180°C. Roll out the dough between two pieces of parchment paper or two silicon baking mats until nice and thin. Using pastry cutter or knife and ruler, cut dough lengthwise and then crosswise into squares. Prick each piece with a fork for that classic graham cracker look.

Transfer parchment paper with the keto graham crackers to a baking sheet or tray, and put in the freezer for 10 minutes before baking.

Bake for 10-12 minutes, until fully golden (varies based on size and thickness). Keep an eye on them. If you want them crispy, you'll want to wait until they are a deep golden before taking them out of the oven.

Allow to cool for 10 minutes before transferring to a cooling rack. Allow to cool completely over several hours to allow them to get fully crisped up. Store in an airtight container for up to 5 days.
How will you use these Keto Graham crackers? With s'mores or a s'mores dip? Or as a component of keto raspberry cheesecake ice cream? Whatever your fancy, let me know how it goes in the comments. Or if you post pics on Instagram, tag me so I can see them. Happy baking! :)