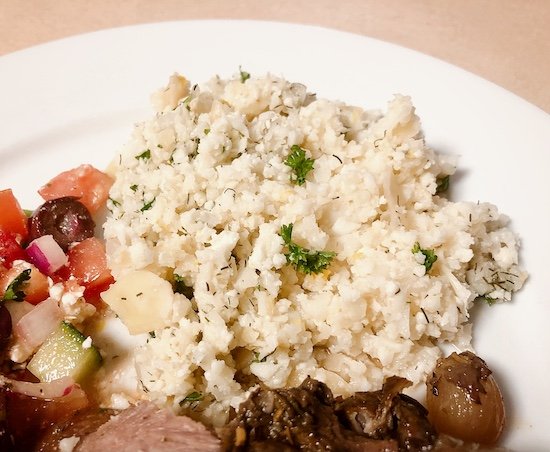 If you're doing up any style of Greek main, especially a meaty one like roast lamb, you want to have some lighter side dishes to balance it out, but without the carbs. This Greek cauliflower rice pilaf is a perfect fit for this purpose, and not too much extra work to whip up.
Vegan Keto Greek Cauliflower Rice Pilaf Recipe
Ingredients:
Directions:
Heat extra virgin olive oil in a large skillet until oil is shimmering but not smoking. Add onions and cook for about 3 to 4 minutes until translucent. Add garlic and nuts. Toss around for a bit until the nuts have gained some colour then stir in the cauliflower rice. Toss to coat.

Add lemon juice and broth. Bring liquid to a rolling boil (it should reduce a little), then turn heat to low. Sauté for about 6-8 minutes or until cauliflower rice is tender.

Remove from heat. Stir in parsley, dill weed and lemon zest. If you like, add a few slices of lemon on top for garnish. Enjoy!
Did you make this vegan keto Greek cauliflower rice pilaf recipe? If so, please let me know how it turned out in the comments. Or if you share pics of your creations on Instagram, please tag me so I can see them. Enjoy! :)