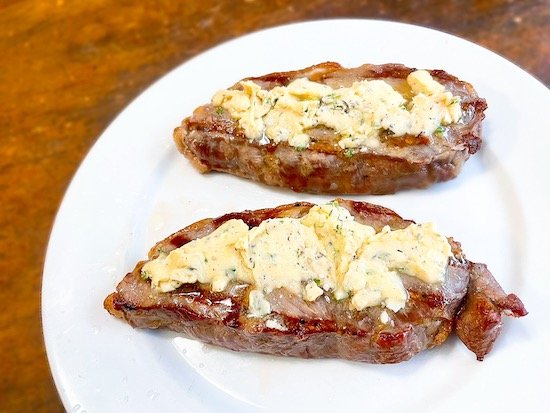 Blue cheese and beef are a match made in heaven, especially for low-carbers. And who doesn't love a buttered steak? Blending them together with a little fresh thyme and seasoning makes for a perfect topping for steaks fresh off the grill!
Keto Grilled Steak with Blue Cheese Butter Recipe
Ingredients:
Two 10oz striploin steaks
¼ cup unsalted butter, slightly softened
2 tablespoons blue cheese, crumbled
1 teaspoon fresh thyme, finely chopped
Flaky sea salt (like Maldon or Fleur de sel and freshly cracked freshly ground black pepper (to taste)
Take your steaks out of the fridge and season with salt and pepper 40 minutes before cooking.

Meanwhile, combine the butter, blue cheese, and thyme in a bowl and season with salt and pepper, to taste. Cover the bowl and refrigerate for 30 minutes.

Preheat your grill and grill your steaks to your liking, though if you intend to cook them any more than medium-rare doneness, you're losing a lot of the flavour in my opinion. (Check out grilling times and instructions on grilling the perfect steak.)

Transfer the steaks to a platter, top them with some of the butter and allow to rest 5 minutes before serving.
Did you make this keto grilled steak with blue cheese butter recipe? If so, please let me know how it turned out in the comments. Or if you share pics of your creations on Instagram, please tag me so I can see them. Enjoy! :)