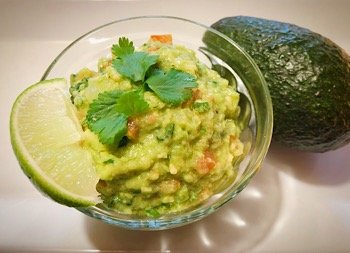 My mother-in-law was looking for a healthy way to work more avocado into her diet that sticks to healthy fats. I can't think of a better recipe than guacamole for this purpose. Bonus: I agreed to make some guacamole for a gaming night. Win-win. I finally get my personal guacamole recipe up on my blog, making it easier to share with my mother-in-law, plus I get a fresh batch of it to bring to the gathering.
Keto Guacamole Recipe
Ingredients:
Directions:
Remove the edible portion of the avocados and mash with a fork. Stir in onion, garlic, lime juice, cilantro, olive oil, salt, pepper and hot sauce. Gently stir in the tomato until fully incorporated.

Squeeze a little fresh lime juice over the top of the dip to help keep it from browning until you're ready to serve. Simply stir it in when you do. Serve with keto flax crackers, pork rinds, bacon chips or fresh cut veggie.
Anyone who does keto probably already has their own personal guacamole recipe. What variations do you like to do for yours? Please share in the comments, or if you try this recipe and post photos of it on Instagram, tag me so I can see them. :)