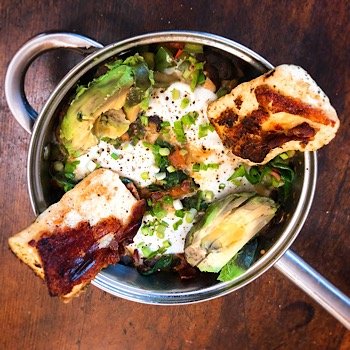 Looking for a filling meal for brunch that will last you most of the day? This hearty recipe is your answer! Filled with all things brunch, a variety of keto-friendly veggies and delicious halloumi cheese, you shouldn't find yourself needing to reach for a snack between brunch and dinner.
Keto Halloumi Breakfast Skillet Recipe
Ingredients:
1 tablespoon bacon grease (or salted butter)
4 large eggs
3 cups baby spinach
1 cup grape tomatoes (or diced tomatoes)
½ cup bell peppers, diced
½ cup white mushrooms, sliced
2 pieces Halloumi
4 tablespoons bacon crumbles
1 medium avocado
2 green onions, sliced
Directions:
Heat a large skillet to medium heat. Add bacon grease to pan along with halloumi. Fry is slightly browned on both sides, about 1-2 minutes per side. Remove from pan.

Add sliced mushrooms and peppers to the skillet. Cook for 3-4 minutes stirring occasionally. Season with salt and pepper. Remove from the pan and place on the same plate the halloumi is on.

Add grape tomatoes. Saute until they just start to burst, stirring the whole time. Approximately 3-4 minutes. Next add in spinach and saute until just wilted, about 2 minutes. Add mushrooms and halloumi back to the pan, stir to combine everything back together.

Create 4 wells in the veggie mixture. Crack one egg into each welln and turn heat down to medium-low. Cover the skillet. Cook the eggs for 2-3 minutes for soft yolks. Cook longer for a more well-done egg.
Remove skillet from heat.

Season with salt and pepper to taste. Garnish with sliced green onions, bacon crumbles and sliced avocado. Serve hot.
You can, of course, switch up the meat to give a different flavour accent to the dish. Bacon can be replaced with sausage, ham, chorizo, even chicken for a lighter option. Or take out the meat altogether and replace with pumpkin seeds.
If you give this recipe a try, let me know how it goes in the comments or tag me on Instagram if you post pics of your creation so I can see them. Enjoy your brunch! :)