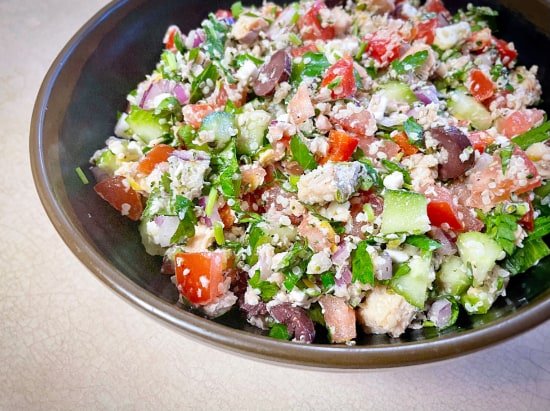 We tend to have salads regularly, so I'm always looking for new ideas for ways to use quality protein and fats in them that are quick and easy, but bring on board different flavour profiles for variety. This hemp heart tabbouleh recipe is a great change from leafy green salads using a ton of fresh herbs as the greens. It can be done as a straight vegan recipe, or if you want to mix things up, you can add in some feta and/or flaked salmon for a little variety.
Hemp Heart Tabbouleh Recipe
Ingredients:
2 tablespoons extra virgin olive oil
¾ teaspoon fine sea salt
1 clove garlic, minced
1½ tablespoons lemon juice, freshly squeezed
½ tablespoon lemon zest
¾ cup hemp hearts (*Non-vegan option, replace ¼ cup hemp hearts with 125g cooked salmon, flaked)
¼ cup red onion, diced
¾ cup tomatoes, diced
¾ cup cucumber, diced
¼ cup red bell pepper, diced
¼ cup kalmata olives, chopped
½ cup fresh flat leaf parsley, chopped
2 tablespoons fresh mint, chopped
Flaky sea salt (like Maldon or Fleur de sel and freshly ground black pepper, to taste
¼ cup feta, crumbled (*Optional for non-vegans.)
Lemon wedges, for serving
Directions:
Whisk together olive oil, fine sea salt, garlic, lemon juice and zest in a small bowl.

Add all the remaining ingredients in a large bowl and toss to combine. Pour prepared dressing over the salad and toss until fully combined. Season with black pepper and flaky sea salt to taste. Serve immediately or chill in the fridge until ready to serve. A little liquid may collect at the bottom as it sits, so make sure you give it a good stir before serving. Serve with lemon wedges to be squeezed on each serving before eating.
Did you make this vegan keto hemp heart tabbouleh recipe? If so, please let me know how it turned out in the comments. Or if you share pics of your creations on Instagram, please tag me so I can see them. Enjoy!