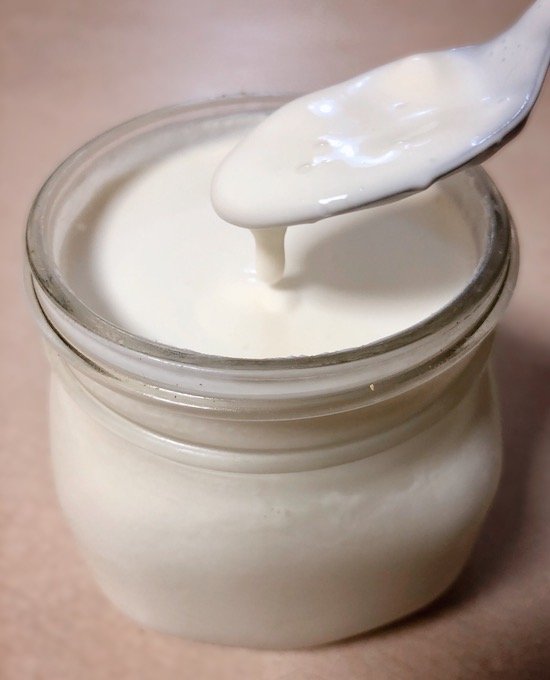 If you're keto and you eat dairy, you probably have some heavy cream (aka whipping cream) in your fridge most of the time. I use sour cream too, but only once in a while, so it often goes to waste before I have a chance to finish it. I recently discovered that it's really easy to make your own sour cream using heavy cream, lemon juice and a little forethought. Making your own means you can make as much or as little as you need and not have to make a special trip to the store.
Homemade Sour Cream Recipe
Ingredients:
2 cups heavy cream or whipping cream
4 teaspoons lemon juice
1-2 pinches xanthum gum or glucomannan(*optional)
Directions:
Combine cream and lemon juice in large jar. Screw on lid and shake lightly until combined.

Remove lid and use a rubber band to secure a thin piece of cloth or a paper towel over the jar. This allows the mixture to breathe, while also keeping out bugs or dust.

Leave the jar on the counter at room temperature for several hours or overnight until thickened. Stir and serve.

If you prefer a thicker consistency, sprinkle in a little xanthum gum and stir well. Add it in only a little at a time, stirring well. Give it a few minutes to set before adding more. Keep adding small amounts this way until you get your desired consistency. A little goes a long way. Store leftover sour cream in the fridge for up to 2 weeks.
Did you try this homemade sour cream recipe? If so, let me know how it went in the comments, or tag me in any photos you share on Instagram so I can see your creation. Enjoy! :)