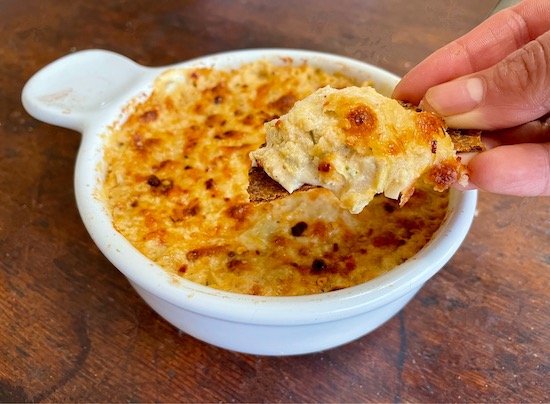 I have another hot crab dip recipe, but I wanted to mix it up and try a different version. In this hot crab and artichoke goat cheese dip, I use goat cheese instead of cream cheese and marry the crab with artichoke. Basically, this dip would be the result of a crab dip and an artichoke dip had a love child.
Ingredients:
Directions:
Preheat oven to 400F. Lightly grease a small baking dish.

Combine all ingredients in a small mixing bowl, except the Parmesan cheese and garnishes, and mix well.

Spread dip into baking pan. Sprinkle with Parmesan cheese. Bake for 20 minutes.

Remove from oven and allow to cool for 5 minutes. Top with chili flakes and fresh parsley.
5 Serve with celery sticks, keto crackers, tortilla chips, or toasted keto bread.
Did you make this keto hot crab and artichoke goat cheese dip recipe? If so, how did it go? Please share your thoughts in the comments. Or if you share pics of your creations on Instagram, please tag me so I can see them. Enjoy!