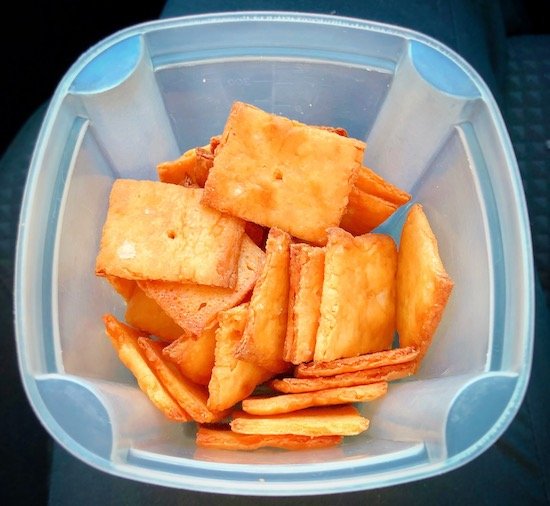 It seems like a no-brainer to have a keto cheese cracker recipe in one's arsenal. It's tough sometimes to get th balance and keep the true to the original crispy, flour-based version, but this recipe comes close. Personally, I like these even better, even when after they've lost their original crispness. Their extra cheesiness more than makes up for it.
Imitation Cheez-It Keto Cheese Crackers Recipe
Ingredients:
Directions:
Preheat oven to 400 degrees. In a small mixing bowl, whisk together almond flour and Himalayan pink sea salt. Add beaten egg and stir with a spatula until well-combined.

In a microwave-safe bowl, microwave cheddar, mozzarella, and cream cheese in 20 second bursts until melted. Add melted cheeses to dry ingredients and mix together with spatula until fully-incorporated. If the dough becomes too difficult to work with, return all ingredients to microwave-safe bowl and microwave for 7-10 seconds.

Spray two pieces of parchment paper with cooking spray. Silicon mats work okay too, but parchment paper seems to work better. Lay one piece down, spray side up, on a cookie sheet, placing dough in center. Lay the other piece down, spray side down so it touches the dough, and lightly press down. Roll dough with a rolling pin to form a thin, even layer. Remove and discard the top piece of parchment paper.

Using a pizza cutter or a large knife gently cut crackers to desired size. Sprinkle coarse salt on top of dough. Bake crackers for 10 minutes.

Remove crackers from oven and allow to cool slightly. Using a spatula, flip and separate all the crackers over and move the ones from the outer edge to the middle and vice versa to promote even cooking. You may need to re-cut some of the crackers as if they melted together while baking. Sprinkle flaky sea salt over the crackers. Return crackers to oven and bake for another 7-10 minutes, or until edges of crackers have browned.

Remove from oven and allow to cool completely before putting them in a container to store at room temperature. They should keep for 4-5 days depending on the weather. If they get soft, give them a quick toast in a toaster oven to revive them to their former crispness.
Did you give this imitation Cheez-It keto cheese cracker recipe a try? What did you think? Please share your thoughts in the comments. Or if you share any pics on Instagram, tag me so I can see your creations. Enjoy! :)