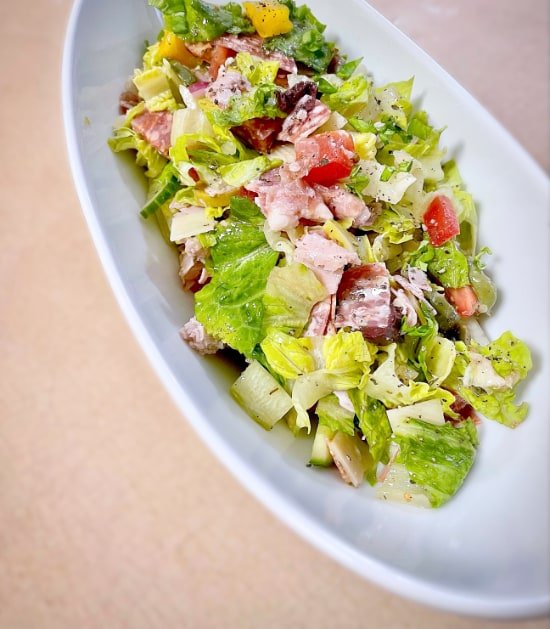 Do you dig charcuterie boards but sometimes feel like you need a bit more veg in the mix? Then try this keto-friendly Italian sub salad recipe. It has all the things you like from the board, Italian deli meats, cheese, olives and peperoncini peppers, but adds a bunch of low-carb veggies to the mix along with it. As the name suggests, it has all the elements of a sandwich from an Italian deli, but in salad form, full of briney, salty, meaty, cheesy goodness.
Keto Italian Sub Salad Recipe
Dressing Ingredients:
Salad Ingredients:
5 cups Romaine lettuce, sliced
¾ cup roma tomatoes, diced
½ cup mixed Italian olives, pitted and sliced
⅓ cup English cucumber, sliced into half moons
½ cup bell pepper, chopped
3 tablespoons red onion, thinly sliced
3 tablespoons peperoncini peppers, sliced
10oz Italian deli meats, diced (*I used pepperoni, prosciutto, capicola ham and salami)
½ cup sliced provolone, chopped
Fresh basil and or parsley, chopped (for garnish)
Flaky sea salt (like Maldon or Fleur de sel and freshly ground black pepper
Directions:
Toss all of the salad ingredients together, season with salt and pepper to taste and toss with dressing. Top with fresh herbs.
Did you make this keto Italian sub salad recipe? If so, how did it go? Please share your thoughts in the comments. Or if you share pics of your creations on Instagram, please tag me so I can see them. Enjoy! :)