A couple of months ago, Chris and I did an overnight kayaking trip to Granite Falls at Say Nuth Khaw Yum Provincial Park (aka Indian Arm Provincial Park). When the forecast was warm and sunny, a rare occurrence for fall in Vancouver, I decided to take advantage and do another overnighter at "The Arm" to check out Twin Islands. Boy, I'm glad I got to squeeze that in after a number of cancelled trips due to wildfire smoke.
A Quick Local Jaunt by Kayak
After a couple of false starts, having forgotten my water bottle... and then the air pumps for our inflatable kayaks, we got to deep cove around 1pm. I know that sounds like a late start, but it just doesn't take that long to kayak to Twin Island. It takes somewhere between an hour and an hour and a half launching from Deep Cove, depending on tides, weather, and your own kayaking ability. Of course, you don't have to camp on the island, being so close, it is also a great option for day trips. You can park overnight for free on the street in Deep Cove (make sure you obey local parking laws), but in the summer it can be harder to find a spot.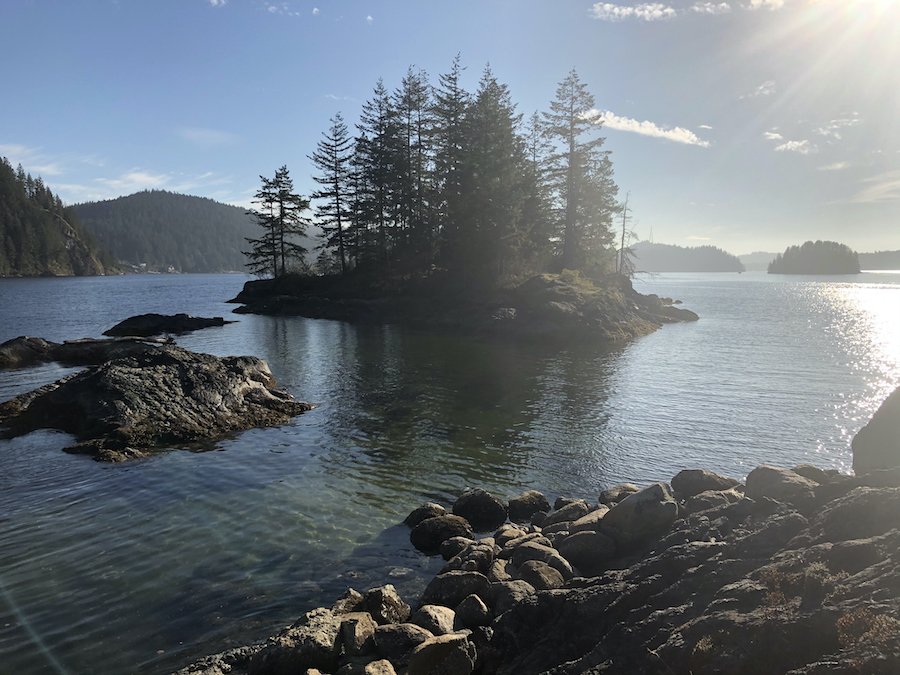 You can go one of two ways, hug the west shore until you get to the island then cross the Indian arm, or you can cross straight away then kayak along the east coast, past Racoon Island. We decided to travel along the west coast, mostly because the wind was a little stronger at the beginning of our journey, and we hoped it would calm down a little by then. If you go the same way we did, along the west shore, be sure to consult a map as the islands are not obvious from that far because they are so close to the east shore that they blend into its backdrop, making them tough to spot. We travelled back on the east side so we could check out Racoon Island on the way home, though it didn't look like there was as much to see on the actual island itself.
Camping on Twin Islands
There is a dock on the east side of the island to access the North Island and its campsites. Be sure to bring your kayak up to the island with you rather than leave it on our attached to the dock as it gets in the way of other people using it.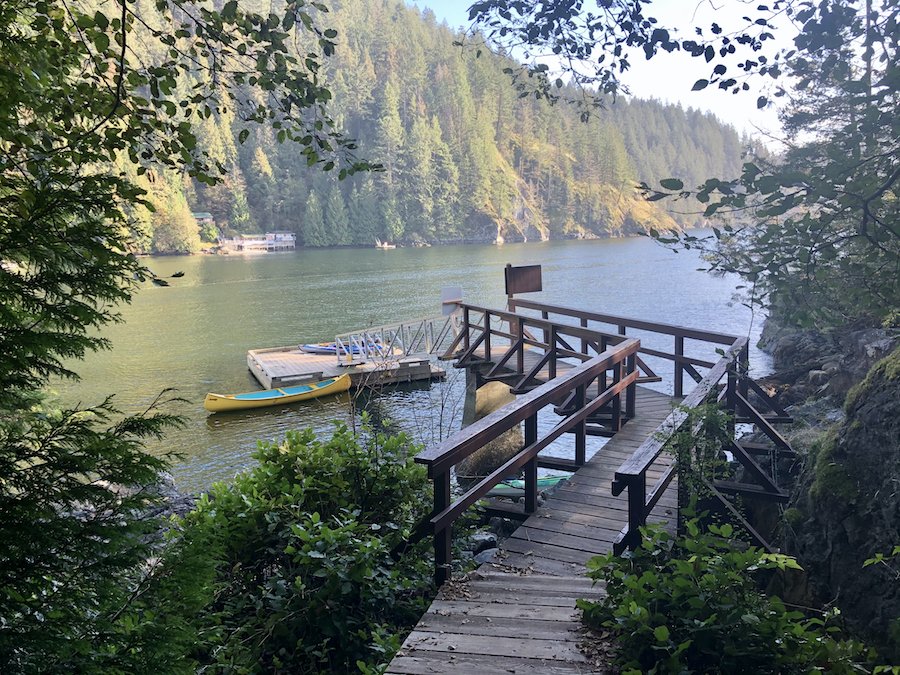 There are 20 tent pads for camping on the north island of the Twins (south island is day use only). Around half of these are right at the dock in the woods, but there are a few more on the very northern end of the island near the tower, and along the water on the west side of the island. Some sites have wooden benches with them. There are also a pair of outhouses close to the dock. It is free to camp anywhere in the Indian Arm Provincial park, but please note that no fires are permitted on the island at any time.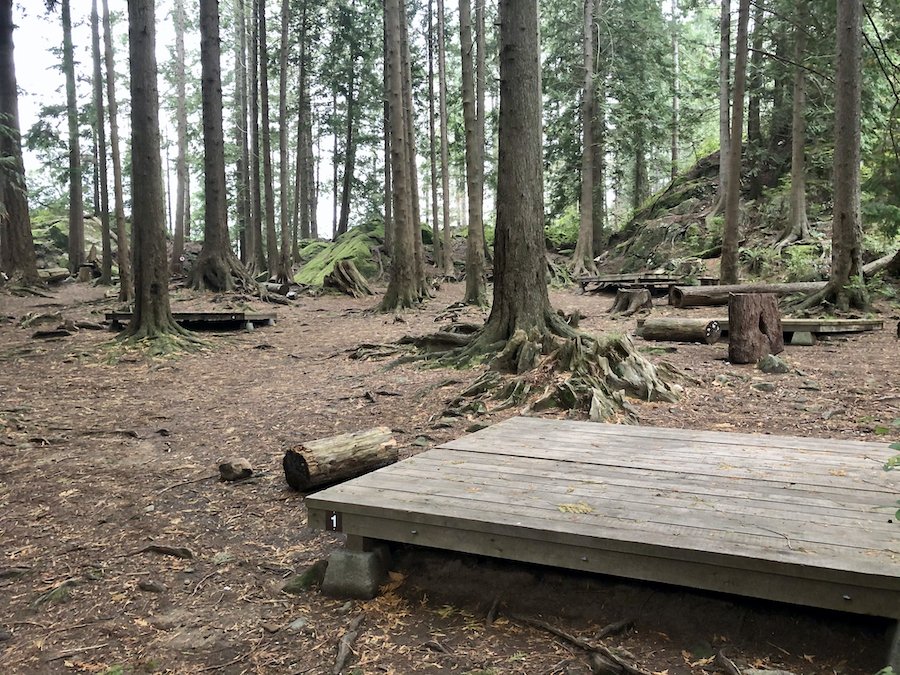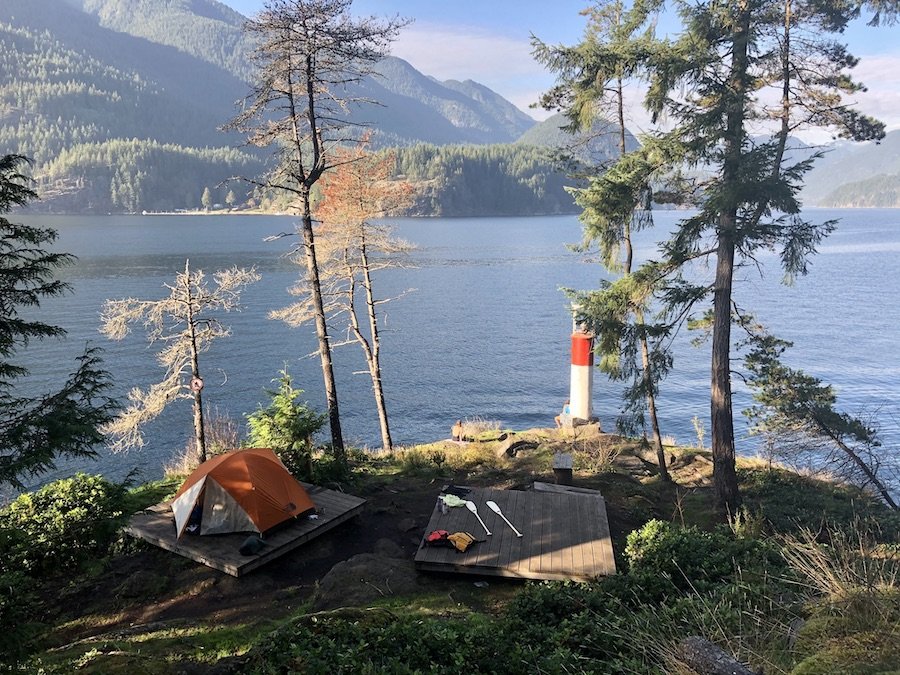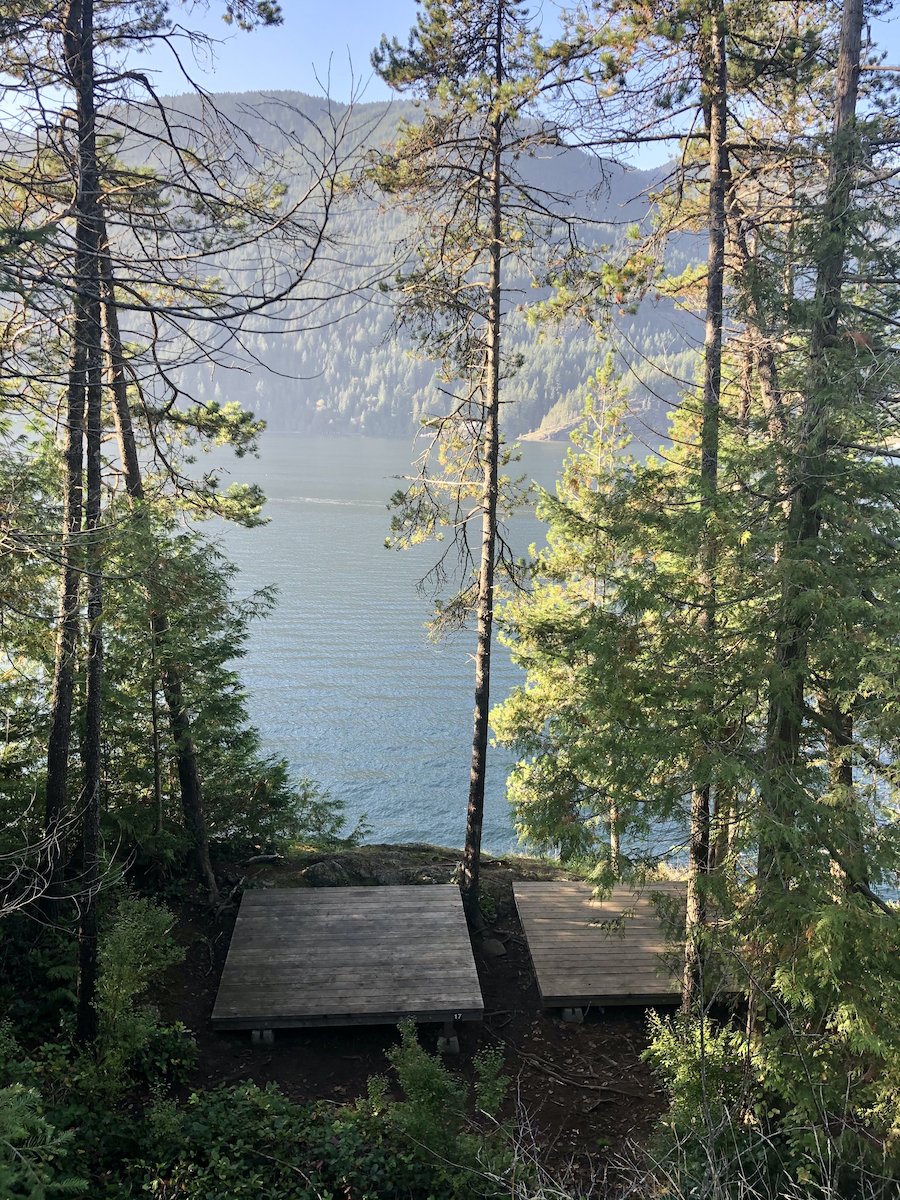 We decided to camp at a tent pad overlooking the water on the east side. While lost the sun in the late afternoon, we were able to scramble up to a sunny ridge that allowed us to enjoy sitting in full sun and watch it set over the mountains. We even got to see a couple of seals hunting for food from this spot.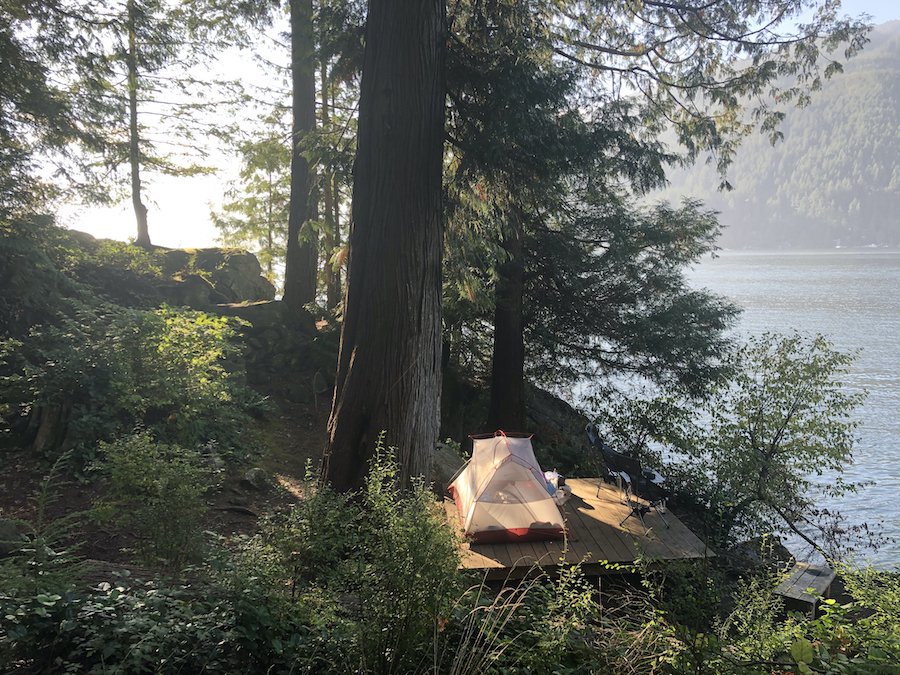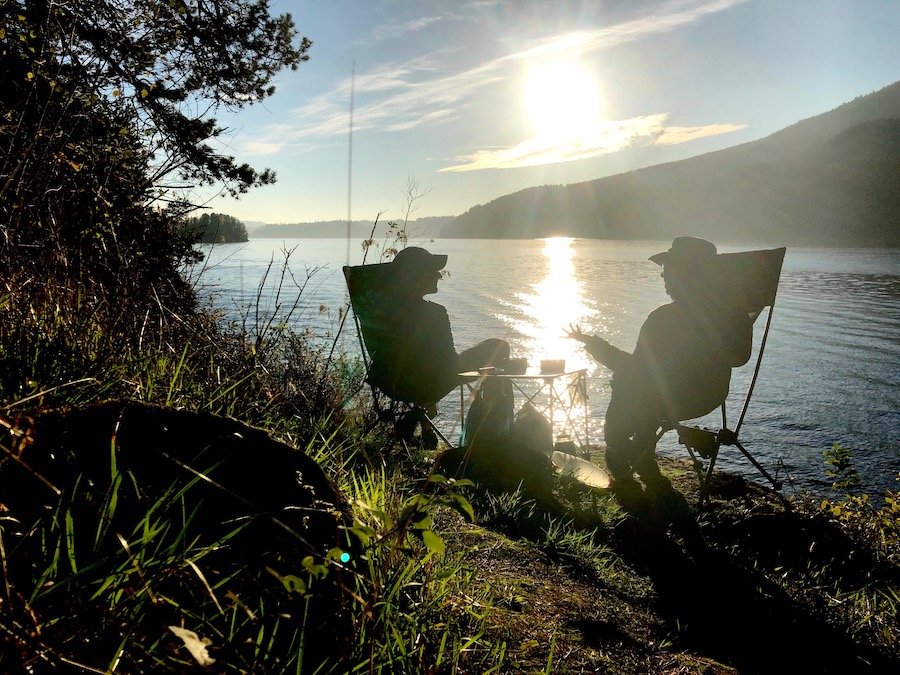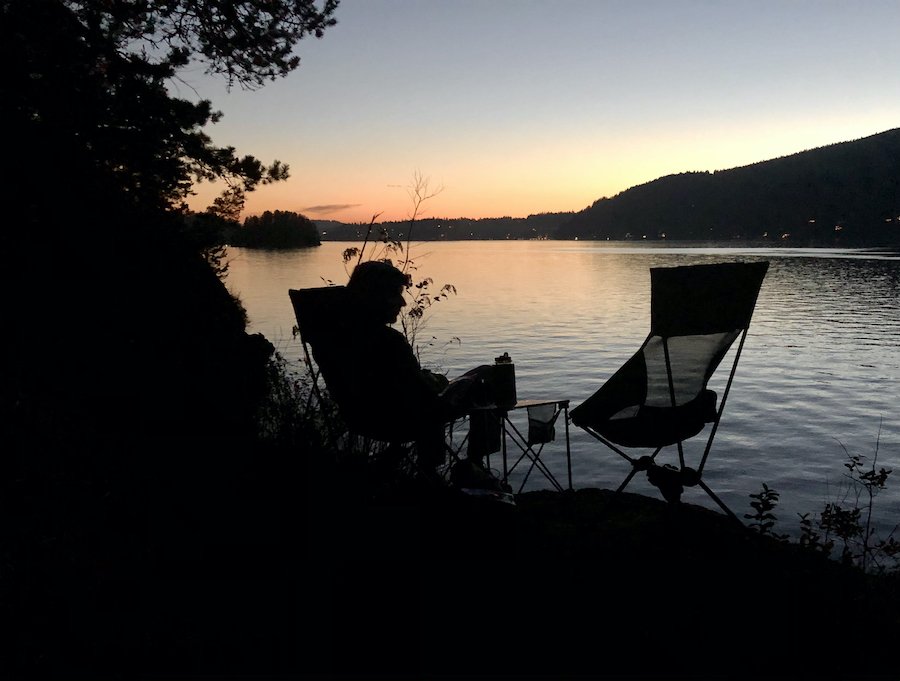 Things to Do on Twin Islands
The Twin Islands are not big, but the north island is big enough that there is a trail running all the way around the island that you can explore. It will take you to a spot that is ideal for cliff jumping at various heights if that's your bag. If you're going to do this though, be sure to scout the water with a mask and snorkel first to ensure there are no unseen hazards. Also note that it is a bit of a swim to get to a place where you can get back onto land, so it's a good idea to have someone in a kayak in the water to spot you in case you need assistance.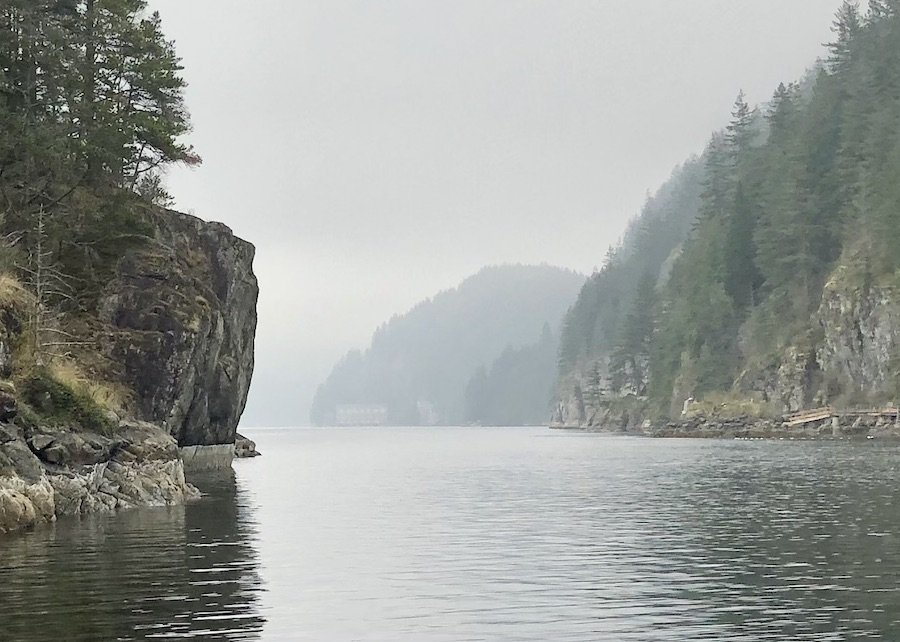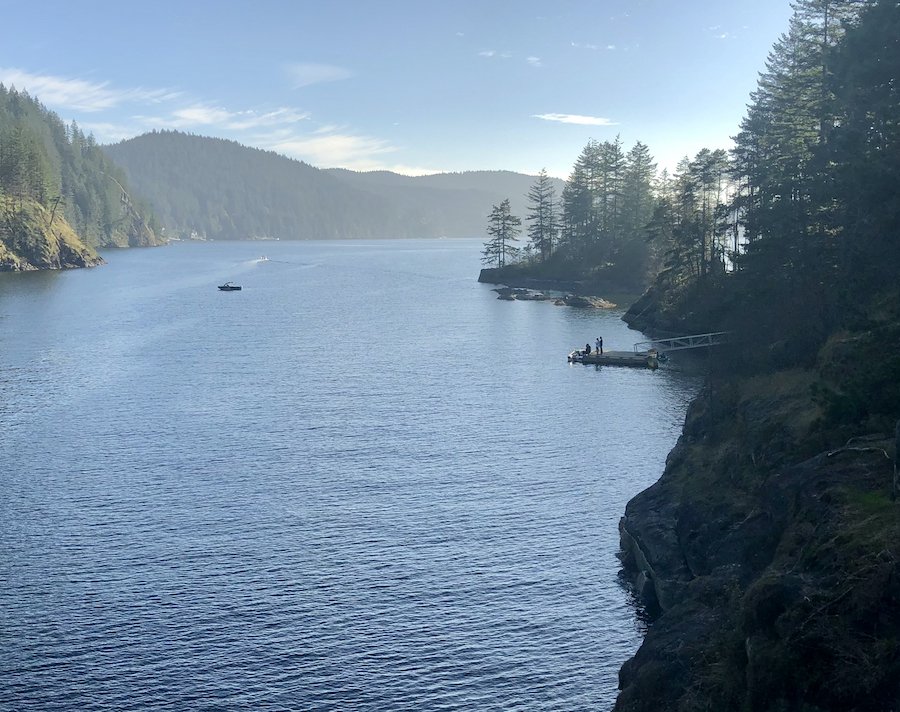 If you love exploring the underwater world, whether it's as a snorkelled, free diver or scuba diver, the water is clear and there is plenty of life around the island. You can also just swim from the southern end of the north island over to the south island for something to do.
An Awesome Kayaking Overnighter When You're Short on Time
The Twin Islands Say Nuth Khaw Yum Provincial Park (aka Indian Arm Provincial Park)](http://bcparks.ca/explore/parkpgs/say-nuth-khaw-yum/) are perfect for when you don't have a lot of time to get where you're going, or if you don't have the kayaking stamina to go all the way to Granite Falls (Read my marine kayaking trip report on Granite Falls.)
Have you ever done an overnight paddling trip to Twin Islands? What was it like for you? Please feel free to share your thoughts in the comments so we can all benefit from your experiences. :)