There aren't many keto convenience meal food options that don't require refrigeration. I remember when I was a carb-based eater and would throw together a meal using canned split pea soup an easy meal, or as a meal when we went out car camping. That's why I was so happy to find Simply Greens Soup on sale at Costco.
Healthy Blend of Veggies and Fats with Balanced Macros
I'm naturally sceptical when any product claims that it is keto, having found many such products doing so and having unbalanced macros, or unhealthy ingredients you strive to avoid as part of a keto diet. But check out these macros with only 5g net carbs: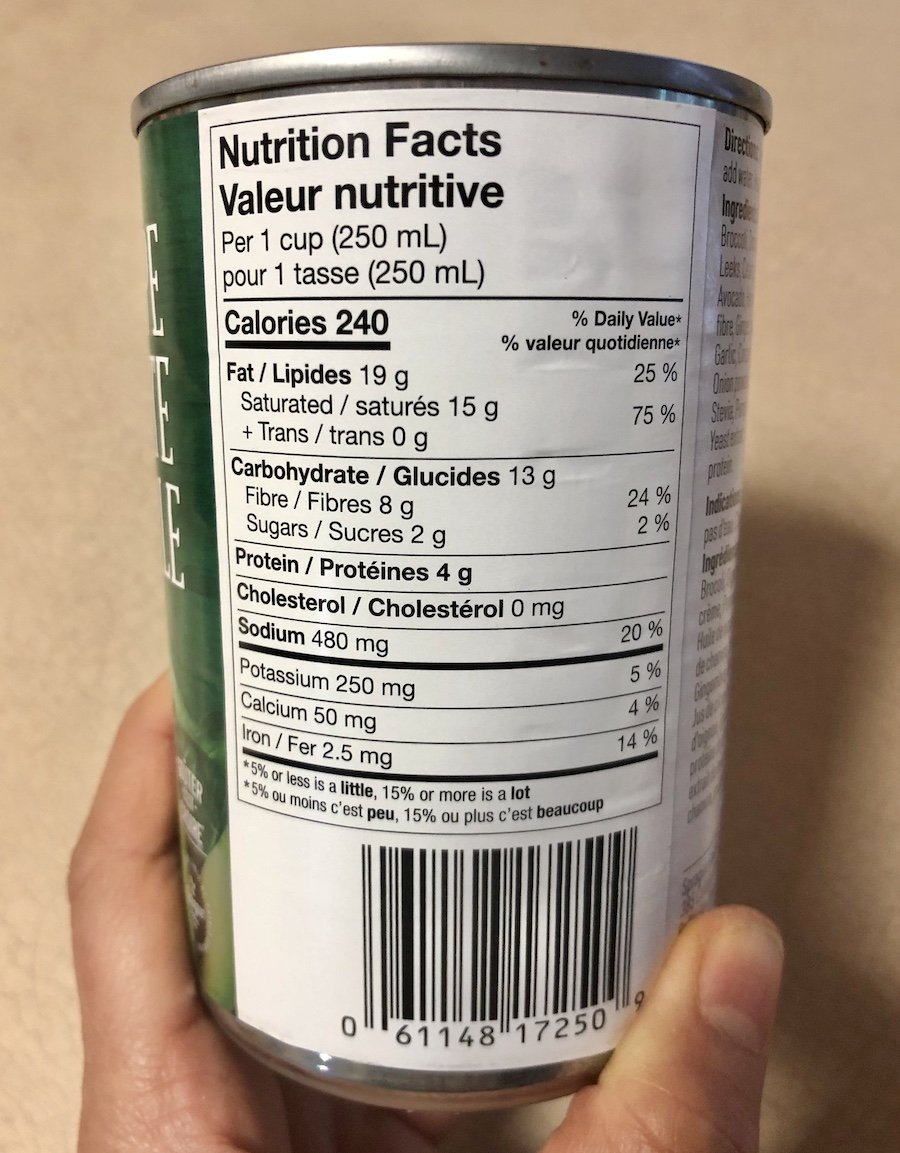 For a side dish, this is a pretty good ration of fats to carbs, and even has a little protein too. The ingredients are on point too. Check these out:
You get a blend of healthy fats from coconut oil and avocado, cruciferous veg from the broccoli and cauliflower, leafy greens from the spinach and moringa, prebiotics from the leeks, ginger, garlic, hemp hearts and acacia fibre, sea veg from the spirulina, and protein from the pumpkin, pea, and hemp protein. It isn't explicitly advertised as such, but from what I can tell from the ingredients, this soup is vegan-friendly in addition to being keto.
The soup is seasoned, and tasted pretty good on its own, a little sweet and savoury, but if you have a different palate, you can easily customize it with other spices you like.
Making It a Complete Meal
If you're eating it as a quick lunch by yourself, you can easily pad it out with other keto foods that don't require refrigeration, like pork rinds or Parmesan Whisps (also available at Costco and currently on sale). Or if you'd rather eat the soup on its own, throw some pepperoni and cheese sticks in your lunch bag and call it a day.
The Cost of Convenience
The package of 8 cans of Simply Greens Soup is $16.99 at regular price, making it $2.12 cad per can, which is quite reasonable, but if you hurry in right now, you'll get an extra $3.50 discount. If you like the idea of the Parmesan Whisp combo, they're also on sale right now (regular price $12.99, currently $9.99). I'm thinking about stopping by and getting more of this soup. I'm a sucker for a great keto bargain!
Have you tried Sprague's Simply Greens Soup? What did you think? Please feel free to share your thoughts in the comments. :)