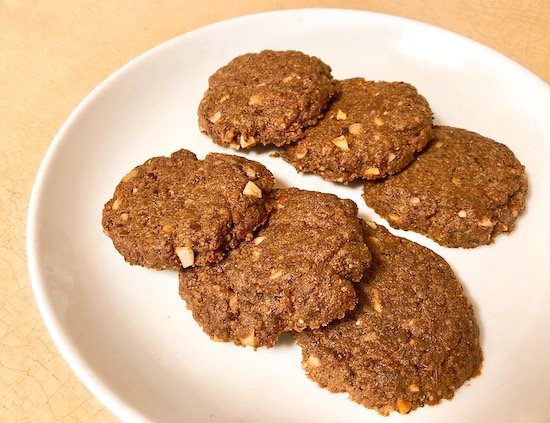 With my big trip to do the West Coast Trail coming up, I wanted to find the perfect bar/cookie that would serve me as a snack on the trail to help energize me and give my body what it needs to recover from any inflammation and muscle soreness that might come up.
Every ingredient that goes into this recipe has different health benefits, all working synergistically together with the above goal in mind:
1. Chia seeds. I replaced eggs with chia as the binder because chia seeds they are so nutrient dense. They are also a good, low-carb source of potassium and magnesium to help replace electrolytes, and loaded with anti-oxidants, which help protect against oxidative stress, of which tissue trauma due to inflammation and excessive exercise are a source.
2. Red Cocoa Powder. Rich in polyphenols which help reduce inflammation. Works as a mood stabilizer due to its serotonin and caffeine content. Also has anti-bacterial and immune-stimulating properties. Red cocoa, if you can find it, also has the highest fat content of the various kinds of cocoa.
3. Cinnamon, ginger and cloves. All three of these spices are known for their anti-inflammatory properties. Cinnamon is also an anti-oxidant.
4. Coffee powder. Who doesn't want an extra hit of caffeine energy on the trail? Plus, it is know to help with physical performance.
5. Himalayan pink sea salt. I added more than usual for a cookie to boost sodium levels, an important electrolyte for everyone, keto or not.
6. Cream of tartar. High in potassium, a much needed electrolyte along with sodium and magnesium.
7. Whey isolate. The purest whey source out there. Whey is a highly digestible source of protein, making it easier for the body to funnel its nutrients, like amino acids, into the muscles at a much faster rate, making for faster recovery.
8. Collagen. Helps ease joint pain and build muscle.
9. Almond butter. A much more nutritious and lower-carb choice as a base over peanut butter. High in magnesium and anti-oxidants.
10. Mixed nut & seed butter. You can you around with this, but I used ½ cup of Nutzo, a blend of cashews, Brazil nuts, almonds, hazelnuts, flax, chia, and pumpkin seeds. I also used 2 tablespoons of walnut butter and pecan butter to further broaden the nutritional profile. More variety gives you a wider range of benefits.
11. Macadamia nuts. One of the lowest carb, highest fat, highest calorie nuts out there. Also high in anti-oxidants.
I make portion these cookies with a small cookie scoop to make them easier to pack and eat. Each small cookie is 113 calories, making it a densely-packed source of fat energy. They also taste pretty darn good too!
Keto Hiker Trail Cookies Recipe
Ingredients:
Directions:
Preheat oven to 350F. Combine chia seeds and water and allow to soak for 5 minutes in a large mixing bowl. While the chia seeds are soaking, combine all dry ingredients in a small mixing bowl.

Stir together all the wet ingredients together in with the chia seed mix and work it together until fully combined.

Gradually add in the dry ingredients with the wet and work it together with a spatula until it forms a consistent dough. Separate the dough into two and put one in the fridge while you work on the other.

Roll ½ the dough into 15 one-inch balls and place on a baking sheet lined with a silicon mat or parchment paper. Shape each ball into a disc.

Bake each tray in the oven for about 13-17 minutes or until you see the edges turn a darker shade of brown. The centres will likely be still be soft to the touch when you take them out. Repeat with the second half of the dough. Make sure you do this one tray at a time, even if both trays fit, as it blocks the airflow, making them bake unevenly.

Allow them to cool on the pan for 8-10 minutes then transfer to a cooling rack to cool completely. Ideally, you want them to fully harden after cooling as they will be less likely to break apart in your bag if they're harder. Play with your cooking times to get this down as every oven bakes a things a little differently. Store in the freezer until you want to eat them.
Did you try making this keto hiker trail cookies recipe? If so, let me know how it went in the comments. And if you post any pics on Instagram, please throw me a tag so I can see you enjoying your creation out on the trail. Happy trails!