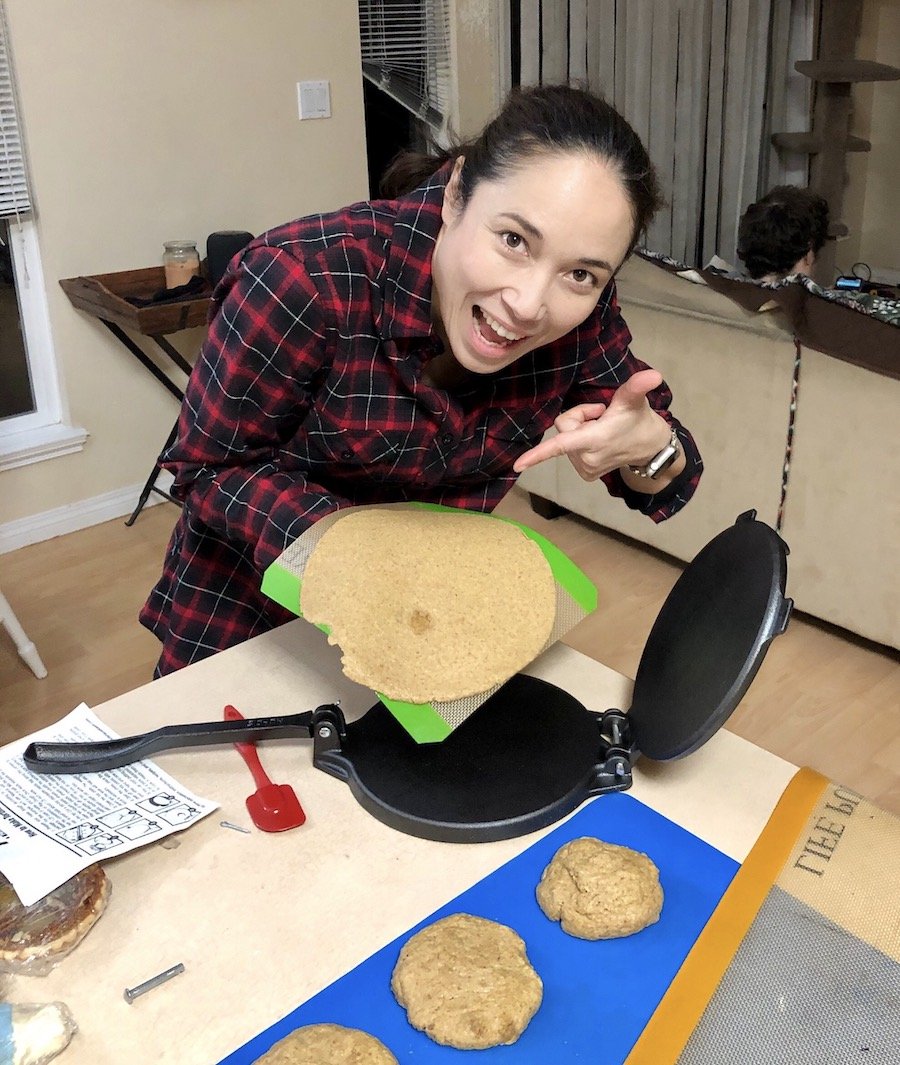 I know what you're thinking; why do I need yet another kitchen gadget that only serves one purpose? Not only is it single-purpose, it's also big, bulky and heavy to boot. Hear me out, because the Victoria cast iron tortilla press is game-changing for people on a keto diet, especially if you love wraps, crackers and anything else that requires you to flatten a dough.
What I Use a Cast Iron Tortilla Press For
Yes, I use it for the obvious, to make tortillas and other wraps. It fills that purpose amazingly well. You can press your dough out into tortillas in a flash, perfectly every time to whatever thickness you want. You simply put less dough and press a little further to get it to spread out if you want you tortilla thinner.
But it doesn't end there. I also use it for making crackers. Yes, crackers, flax, almond... any kind of low-carb cracker. One of the reasons I don't make crackers more often despite how easy the recipes look on the surface is because the whole process of rolling them out really thin in order to get them nice and crispy takes for ever. Plus, it always seems like it just won't roll out thin enough or consistently throughout the batter, making some crackers come out chewy, and other burnt when you take them out of the oven. All you have to do is divide the dough up into smaller discs, press them out then transfer to your lined baking tray. You can cut them into crackers then if you like, perhaps if you need consistent sizes for something like graham crackers intended for s'mores. For general eating crackers, I just bake them and break them up when they're done. Since they're nice and crispy, with a consistent thickness, it's easier to do.
How to Get the Best Results with a Tortilla Press
Don't just throw your down straight into the press. It's messier and a lot more awkward when it comes time to transfer the dough. Use a couple of silicon baking mats, sprayed with a little cooking spray on either side of the dough. Once it's pressed out to your liking, you just lift the mat and carry it over to your frying pan or baking tray. You might need to use a thin silicon spatula to work the edges off, but if you do it carefully, once you've got it going, it will naturally slide off the mat onto your desired surfaces.
Price and Value
At just over $50 cad, it's not a cheap gadget, but it is very well made and because it's made of cast iron, it should last a lifetime. I know it will encourage me to make crackers and wraps a lot more often, and if something helps you stay on plan with whatever healthy nutrition lifestyle you've chosen, it's worth it.
Do you have a cast iron tortilla press? Do you have any tips for using it? If so, please share your tips in the comments. :)