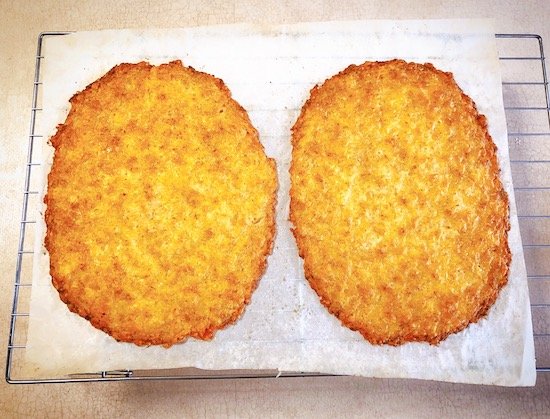 I have been testing different methods and recipes for the perfect low-carb pizza crust for a couple of years now, only to come out disappointed with every attempt... until now. This recipe uses a mix of grated cheese, coconut flour, egg, and a couple of plant-based binders to make it crispy at the edges and doughy in the centre, allowing it to be held and handled just like a flour-based pizza crust! On top of that, it's easy to make once the cheese is all grated. And if you're sensitive to cow's dairy like I am, you'll appreciate that you can use entirely sheep and goat cheese for this recipe. Try it and bring pizza back into your low-carb life!
Ketofied Pizza Crust Recipe
Ingredients:
1 cup (150g) whole milk mozzarella, grated (*Use goat mozzarella if sensitive to cow's dairy.)
1 cup Manchego cheese (aged 6 months), grated (*Or more mozzarella.)
¾ cup Pecorino Romano cheese, finely grated (*Parmagiano Reggiano also works.)
3 tablespoons coconut flour
1 tablespoon psyllium husk
1 large egg
½ tablespoon golden flaxmeal, soaked in 1½ tablespoons water
Directions:
Adjust oven rack to lowest position and place an inverted baking sheet on the rack. Heat oven to 450F. Stir together all ingredients in a bowl until fully combined then work the dough with your hands until it holds together well.

Press dough between 2 pieces parchment paper sprayed with cooking spray into an 11" round, around ¼" thick (or two 8" rounds).

Transfer crust to a second inverted pan or pizza peel then slide the parchment and crust onto heated baking sheet. Bake crust until deep golden brown and edges are crisp, 12 to 15 minutes. Transfer to a wire baking rack and discard parchment. (*Note: Pizza crust can be refrigerated for up to 3 days or frozen up to 1 month.)

To make a pizza, put the crust on a baking sheet or pan then top with any ingredients you like them bake in an oven preheated to 450F for 12-15 minutes, or until cheese is melted and bubbly.
Did you make this ketofied pizza crust recipe? What kind of pizza did you make with it? Please let me know how it went in the comments. Or if you share pics of your creations on Instagram, please tag me so I can see them. Enjoy! :)