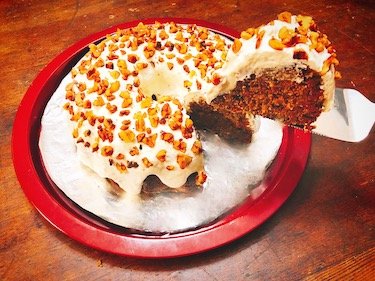 For my husband's birthday, I decided to tackle a new keto cake conversion, his absolutely favourite: carrot cake. Carrots already tend to have more carbs, so FYI, it might not be quite as keto as other cake recipes might be, but I do cut back on the carrot slightly and opted to finely grate them so that they impart more of the flavour in the cooking process. I also played up the spices and extracts to bring out the "spice cake" elements of the carrot cake, and browned the butter as well to give it a more notable complexity that will make up for less carrot.
I decided to go for a bundt cake mould because I think they're pretty, which means using a cream cheese glaze instead of a frosting (frostings are a bit rough on the delicate surfaces of a bundt).
Big shout out to my badass baker buddy Dani De Donno of Dani Cakes Catering, who consulted with me on this recipe. She is bakes for a living and has worked at a number of 5-star restaurants in the New Jersey area. She has mad skills and helped make this recipe possible. Dani will be getting a website up and running very soon so I'll keep you posted about that. On to this killer keto carrot cake recipe!
Killer Keto Carrot Cake Recipe
Cake Ingredients:
Cream Cheese Glaze Ingredients:
In a medium bowl, sift or whisk together almond flour, coconut flour, baking powder, baking soda, salt and spices. Set aside.

In a saucepan over medium heat, melt the butter and cook until brown flecks appear, stirring occasionally. Remove from heat and whisk in powdered erithrytol until melted. Aallow to cool slightly.

Beat eggs, butter mixture, rum, vanilla together and liquid stevia. Stir in grated carrot, ½ cup walnuts, and coconut. Then stir in dry ingredients until just moistened.

Pour into a silicon bundt cake mould (or a standard bundt cake sprayed with cooking spray). Bake at 350F for 45-50 minutes or until a chopstick or BBQ skewer pushed in, comes out clean. Allow to cool for 10 minutes then turn out onto a cooling rack and allow to cool completely.

While the cake is cooling, toast the walnuts. Heat large frying pan to medium. Add remaining ½ cup of chopped walnuts in a single layer. Cook for 5 minutes, stirring frequently. Transfer to a plate to cool. (*Note: if there are any smaller pieces or powdery walnut residue, it will likely burn as the bigger pieces toast, try to separate these off during the cooking process. If there any burnt pieces at the end, pick and/or sift them out using a sifter.)

Prepare the glaze by whisking all the ingredients together into a medium sized mixing bowl. Beat with an electric mixer until it thickens slightly and the ingredients are fully blended. It will be pretty thick and will appear unpourable. This is what you want. Pour the glaze into a plastic bag and leave in the fridge until ready to glaze. Once the cake is completely cooled, squeeze the glaze on top of the cake making circles around the top until it's on on there. Allow gravity to do the rest (it will drape over the cake over the course of 15-20 minutes. Once the glaze has fully settled, sprinkle the walnuts over top of the glaze. You can do this a couple hours before serving but if you're not serving the cake until the next day, wait and do the glazing a couple of hours before serving so that it doesn't soak into the cake too much.
Boy, did this keto recipe turn out well! It's some of my best work. Baking is always so much more fun with others so I really enjoyed the creative partnership I shared on this one with Dani.
Did you try out this keto carrot cake recipe? If so, let me know how it went in the comments. I would love your feedback. And if you post any pics on Instagram, please throw me a tag so I can see your creation. Happy baking!