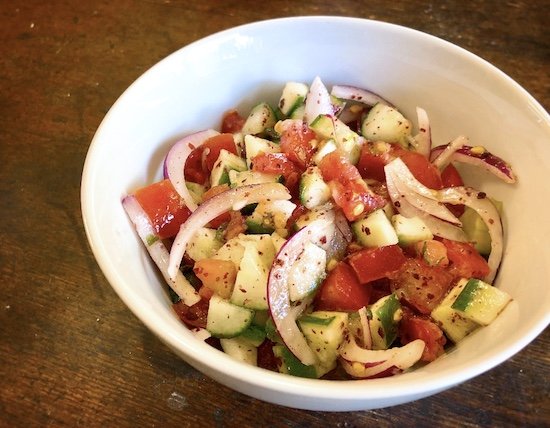 If you're making a bunch of other middle eastern meats and you want a simple veggie dish to go with it, this Lebanese tomato cucumber salad with mint and sumac is the perfect partner. It really hits the spot with a light, fresh, summery flavour to contrast the meatier dishes that are associated with the area.
Vegan Keto Lebanaese Cucumber Tomato Salad with Sumac and Mint Recipe
Ingredients:
6 tablespoons extra virgin olive oil
3 tablespoons lemon juice, freshly squeezed
2 tablespoons dried sumac
Flaky sea salt (like Maldon or Fleur de sel and freshly ground freshly ground black pepper), to taste
4 cups cucumber, cut into 1" pieces
3 cups tomatoes, cut into 1" pieces
1 cup red onion, sliced into thin half-moons
2 cloves garlic, minced
15 leaves fresh mint, torn or chopped
Directions:
Whisk together garlic, mint, sumac, olive oil, lemon juice, salt and pepper in a small bowl. Store in the fridge until ready to use.

In a large salad bowl, add cucumber, tomatoes, and onion. When you're around 30 minutes to 1 hour away from serving, pour the dressing vegetables evenly and toss well to coat. Taste and adjust seasoning. Serve as a side dish for your favourite middle eastern dishes, like kofta kabobs or shawarma.
Did you make this keto Lebanese cucumber tomato salad with mint and sumac recipe? If so, please let me know how it turned out in the comments. Or if you share pics of your creations on Instagram, please tag me so I can see them. Enjoy! :)