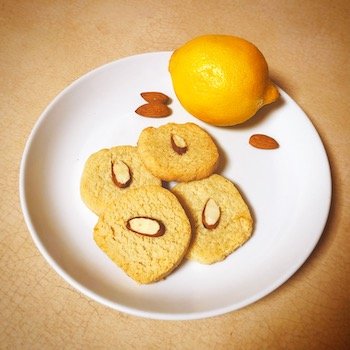 Shortbread cookies are a staple for the holidays but are a delicious treat for tea time or dessert any time of year. Because of their high butter content they are a great choice for keto simply by subbing out the wheat flour for almond flour and the sugar for keto-friendly sweeteners. And adding some lemon zest and extra almond flavour puts a little extra zing in these tasty cookies.
Keto Lemon-Almond Shortbread Cookie Recipe
Ingredients:
Directions:
Melt the butter in the microwave or a small saucepan.

Add the almond flour, sweetener, and lemon zest, stirring until fully combined.

Form dough (it will be crumbly, this is normal) into a cylinder and wrap tightly with plastic wrap to compress.

Chill in freezer for 30 minutes or until firm, or in the refrigerator for 2 hours.

With a sharp knife, slice into ½ inch thick cookies (if they crumble apart your dough isn't cold enough). Press one almond sliver into the top of each cookie.

Bake in a preheated oven 350F on a greased cookie sheet or one lines with a silicon mat or parchment paper for 15-20 minutes, or until golden brown. Allow to cool completely before removing and serving. Store in an airtight container up to a week or in the freezer for up to 4 weeks. Makes 12 cookies.
Do you have a favourite variation on the shortbread cookie? I would love to give it a try! Please share your ideas in the comments. If you give it a try, let me know how it goes, or if you share pics on Instagram, tag me so I can see your creation. :)