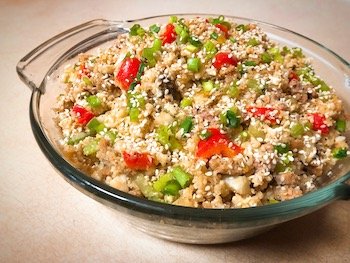 Being half Filipino, fried rice was a common dish for me growing up. My mom typically would make it with whatever she happened to have on hand so it was different every time. I wanted to come up with a cauliflower fried rice recipe that embodies Filipino flavours (Filipino hot sausages known as Longanisa and lots of garlic), was low-carb, and had my own unique twist. This is the recipe I came up with.
I made it to bring to a friend's birthday party. Only one or two other people were on low-carb diets, but everyone said they loved it, some even more than real fried rice. The common theme was that people found the rice to be more infused with the seasoning than the usual fried rice they had eaten in the past. Always nice when people like my swap recipe over the real thing. :)
Longanisa Cauliflower Fried Rice Recipe
Directions:
Directions:
Roughly cut cauliflower into pieces and process in a high-powered blender or a food processor; it should resemble grains of rice. Whisk together liquid stevia, soy sauce, rice vinegar and sesame oil in a small bowl and set aside.

In a wok or large skillet cook sausage meat through over medium heat and remove from pan. Add avocado oil to skillet and raise temperature to medium-high. Add garlic and stir fry until fragrant, but not browned, about 20-30 seconds. Add all the veggies except cauliflower rice, and stir fry until softened, 1-2 minutes. Add cauliflower rice to stir fry quickly and cook 1-2 minutes until to a soft, slightly crunchy texture is achieved.

Make a well in the cauliflower rice mixture in the centre of the wok, turn the heat down to medium and add the eggs. Stir gently and continuously until the eggs are fully cooked. Add sausage meat to the wok and stir everything together. Stir in the soy sauce mixture and crushed red pepper. Remove from heat and top with green onions and sesame seeds just before serving.
I wouldn't call this a "traditional" Filipino recipe, not by a long shot, but it does have Filipino elements that I enjoy so this recipe does remind me of my family. Hopefully, you'll be able to find the longanisa sausage in your area because it's just so good!
Did you give this keto longanisa fried cauliflower rice recipe a try? If so, let me know how it went. Or if you share pics on Instagram, tag me so I can see your creation. :)