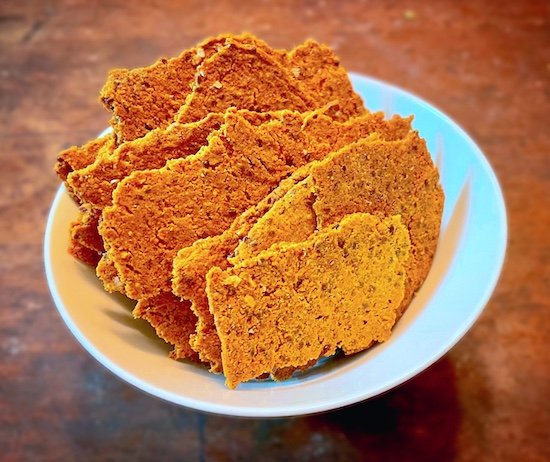 Did you know that you can ferment a sourdough starter using a low-carb flour? I have been feeding my starter for 3 months now and it's going strong. I use the discard from the feedings to make this delicious cracker recipe. I've yet to make a keto sourdough bread that I'm 100% happy with, but I'll get there. In the meantime, this new cracker recipe is my favourite keto cracker I've made so far, crispy and tasty for all your snacking needs, along with the healthy gut bugs that come from the fermentation.
Keto Lupin Flour Sourdough Discard Crackers Recipe
Ingredients:
Directions:
In a bowl, combine sourdough starter with flours, olive oil, herbs and salt. Mix to combine, working it until the dough comes together in a smooth mass.

Wrap tightly in plastic wrap and refrigerate for at least 30 minutes or up to 24 hours. Position oven racks in the upper ⅓ and lower ⅓ of oven; preheat to 350F. Line a baking sheets with parchment or silicone baking mats.

Roll out each piece into two oblong rectangle as thin as you possibly can. Lay out two oblongs of dough side by side (not overlapping) on each baking sheet.
Spritz or brush lightly with water; sprinkle with flaky salt if using.

Bake for 25-35 minutes or until browned and crispy, rotating the pans top to bottom and back to front halfway through baking.

Allow to cool, then transfer crackers to a cooling rack. Crackers will keep in an airtight container at room temperature for around to 10 days.
Did you make this keto lupin flour sourdough starter discard crackers recipe? If so, please let me know how it turned out in the comments. Or if you share pics of your creations on Instagram, please tag me so I can see them. Enjoy! :)