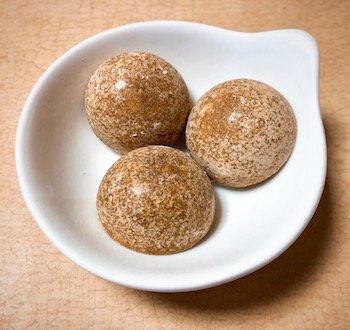 Looking for a good keto fat bomb recipe that incorporates the health benefits and caramel-y taste of maca root? Well, here's your answer!
Maca root is known for a wide variety of health benefits. It's a good source of antioxidants for fighting off free radicals in your system. It increases energy, endurance, libido and fertility. It improves learning, memory, even mood, by reducing feelings of anxiety and depression. It's even known to reduce menopause symptoms, sun damage, and erectile dysfunction. Read more about health benefits of maca root.
These keto maca cinnamon fat bombs have a healthy scoop of maca root powder in them, so if you weren't sure of how to work this healthy, tasty ingredient into your keto lifestyle, now you're sorted. Bonus: This recipe is vegan/vegetarian friendly too.
Keto Maca Cinnamon Fat Bombs Recipe
Ingredients:
Directions:
Melt together coconut oil and almond butter either in a small sauce pan over low heat or in a microwave safe dish in 20 second bursts on high, stirring between each until fully melted.

Whisk in all the remaining ingredients until fully incorporated.

If using a silicon fat bomb mould like I do, place it on a tray. Then, using a measuring cup or bowl with a pour spout, carefully pour the melted batter into the mould. Freeze for 4 hours or overnight until set.

Remove fat bombs from mould and store in a an airtight bag or container in the freezer. Makes 15 small fat bombs (using this silicon mould).
Did you give this keto maca cinnamom fat bomb recipe a try? Did you make the standard or vegan version? Whichever one you made, let me know how it went in the comments. Or if you share any pics on Instagram, please tag me so I can see your creation. Enjoy! :)