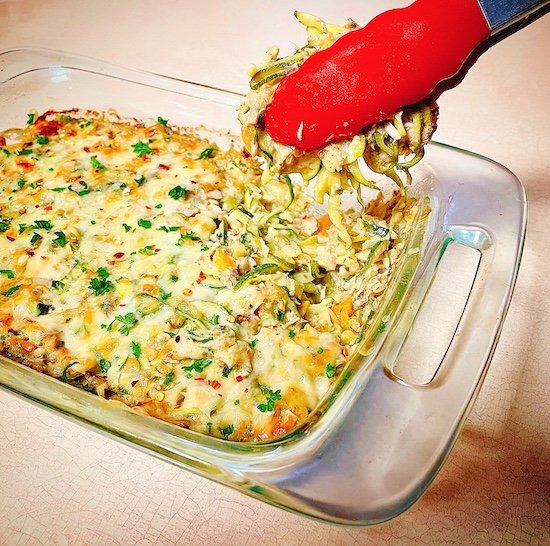 Casserole recipes often come to me by the need to use up things I have in the fridge, like this mackerel zucchini noodle casserole recipe. I had a bunch of zucchini and a few other veggies, so I threw it all together with some mackerel, a white sauce, and topped it with a strong cheese (I chose a Comté, but any sharp, hard cheese would work). It worked great as an easy, weekday night meal.
Keto Mackerel Zucchini Noodle Casserole
Ingredients:
1 tablespoon unsalted butter or ghee
⅛ teaspoon kosher sea salt
⅓ cup yellow onion, chopped
1 jalapeño, chopped
⅓ cup celery, chopped
½ cup orange bell pepper
2 cloves, garlic, minced
¾ teaspoon dried thyme
½ teaspoon crushed red pepper flakes, plus a little extra for garnish
2 tbsp coconut flour or oat fibre
One large can of mackerel, bones removed, drained, and flaked (or 2 small cans of flaked tuna)
1 tablespoon Dijon mustard
⅛ teaspoon celery seeds
1 tablespoon lemon juice, freshly squeezed
Freshly ground black pepper, to taste
3½ cups zucchini noodles
1½ tablespoons green onion or chives, chopped
1 cup grated Comté, Gruyère, or, extra-sharp cheddar
2 tablespoons fresh parsley, chopped
Directions:
Press/Squeeze as much excess water out of them as you can. You can do so with a paper towel. Set aside.

Preheat oven to 350F. Spray a 2-quart shallow casserole dish with cooking spray. Set aside. In another bowl, combine your mackerel (drained), mayo, Dijon, lemon juice, chives, celery seeds, and pepper. Mix thoroughly. Set aside.

Add butter or ghee to a large skillet and heat to medium. Add onion, celery, jalapeño, and salt. Cook for about 3-4 minutes, or until onion is a softened. Stir in garlic, thyme leaves and chili flakes and sauté until fragrant, around 1-2 minutes.

Stir in coconut flour or oat fibre and cook until frothy. Whisk in the milk 2 tablespoons at a time until fully incorporated. Cook until thickened slightly. Remove from heat. Stir in mackerel, mayo, Dijon mustard, celery seeds, lemon juice and black pepper. Add zucchini noodles and toss together.

Pour mix from the large bowl into your casserole dish. Sprinkle grated cheese over top. Bake for 25-30 minutes or until edges are brown.

Change the oven to broil at high heat for the last minute or two to make crispier edges. Remove from oven. Garnish with fresh parsley, more pepper flakes and serve with lemon wedges. Allow to rest 5-7 minutes before serving.
Did you try this keto mackerel zucchini noodle casserole recipe out? If so, let me know how it went in the comments, or tag me in any photos you share on Instagram so I can see your creation.