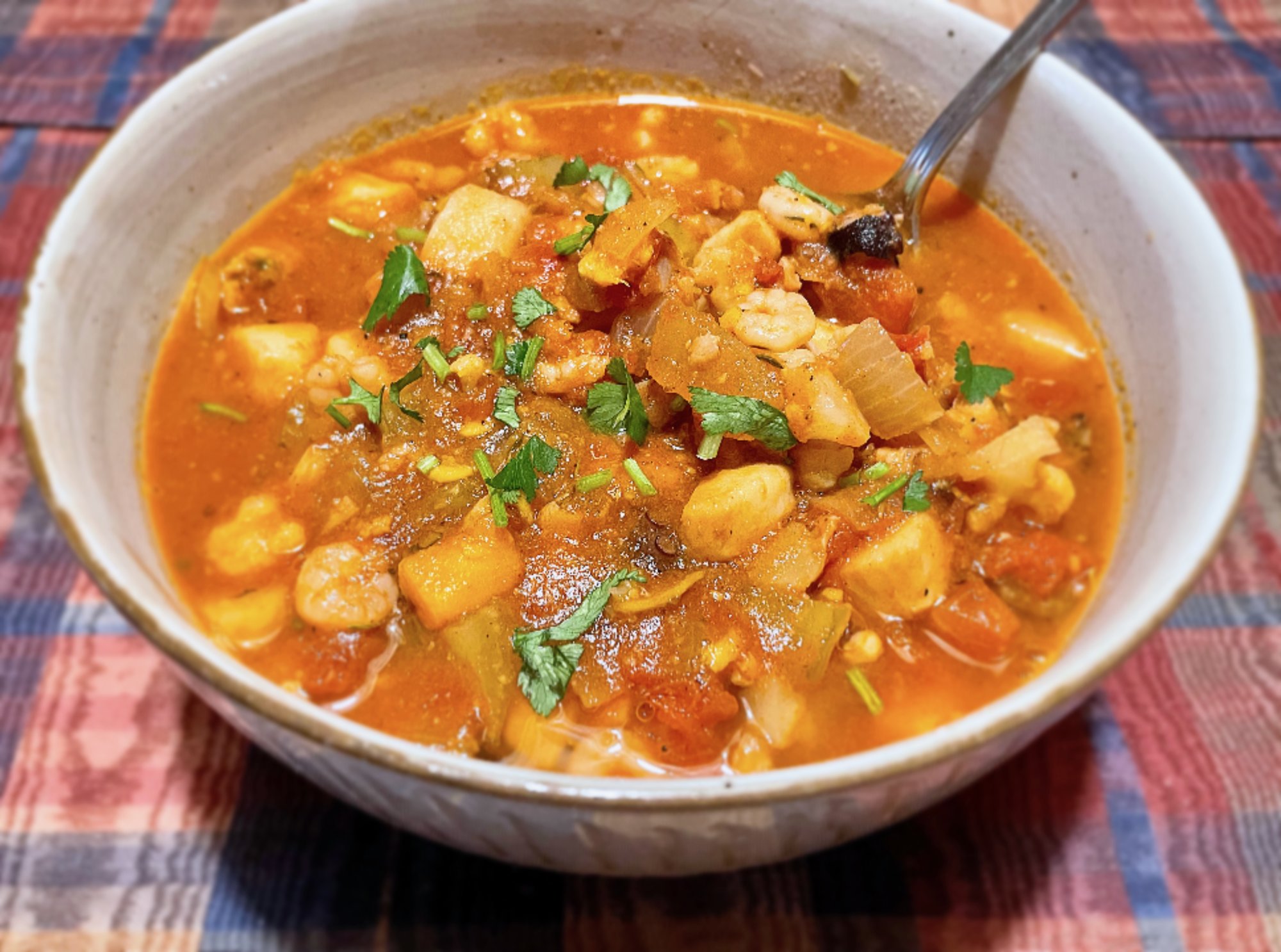 I wanted to make a seafood chowder that was a little less heavy than the typical New England version with the roux/cream base, so I decided to delve into the world of the Manhattan-style chowder, which uses a savoury tomato base instead. It's almost like a minestrone but with seafood instead of beef and rutabaga instead of noodles. It was a nice change for a soup on cold winter evening.
Keto Manhattan Seafood Chowder Recipe
Ingredients:
2 tablespoons avocado oil
2 cups yellow onions, chopped
Kosher salt, to taste
6 cloves garlic, minced
¾ cup celery, chopped
One 28 oz can stewed tomatoes, undrained
3 cups fish or chicken bone broth (*If using chicken broth, I recommend adding 1-2 tablespoons fish sauce for more seafood flavour)
1½ cups rutabaga, cut into ¾-inch cubes
½ teaspoon dried thyme
½ teaspoon celery seeds
1-2 teaspoons hot sauce (*or to taste)
¼ teaspoon black pepper, freshly ground
1lb mixed seafood
½lb firm white fish fillets (like basa or cod)
6 oz crab meat, chopped
2 tablespoons cilantro, chopped (for garnish)
Directions:
Heat the avocado oil in a Dutch oven or large heavy-bottomed pot over medium heat. Add the onions and celery with a sprinkle of salt and cook, stirring frequently, until the vegetables are soft, about 6-7 minutes. Stir in garlic, thyme, and black pepper and sauté until fragrant.,

Stir in bone broth, tomatoes, and hot sauce and mix well. Bring the chowder to a boil then reduce the heat to a simmer. Cover and allow to simmer for 15 minutes.

Add the seafood, crab and fish to the chowder. Cover and allow cook for 5-7 minutes or until the seafood, crab and fish are cooked through. Serve hot with keto crackers, keto bread, or pork rinds.
Did you make this keto Manhattan seafood chowder recipe? If so, please let me know how it turned out in the comments. Or if you share pics of your creations on Instagram, please tag me so I can see them. Enjoy! :)
--
Lori O'Connell 613.633.7373
LoriOConnell.com
"Luck is what happens when preparation meets opportunity." -Seneca