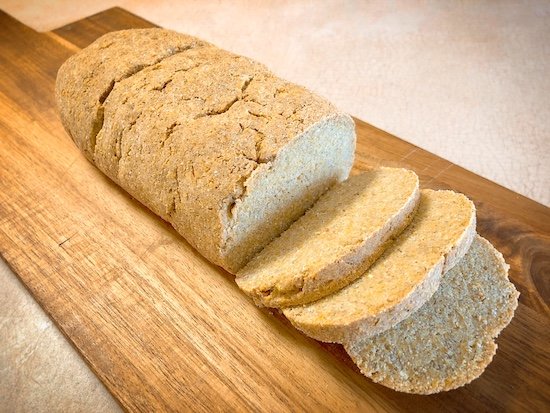 I've figured out now that I can tolerate a little egg here and there in my cooking, even with my having a sensitivity to them, though I am still trying to minimize my consumption of almonds and cow dairy. As such, I came up with this lovely low-carb, keto friendly dairy, nut and gluten-free protein bread, which has one of the best textures I've seen in a low-carb bread that's gluten-free.
Keto Nut and Dairy-Free Protein Bread Recipe
Ingredients:
Directions:
Preheat oven to 350F. Whisk together the dry ingredients in a medium mixing bowl. Mix in the melted butter with a spatula then gradually stir in the egg, soaked ground flax, remaining non-dairy milk, and cider vinegar until you get a dough.

Shape into a dough then put it in a 9x5" silicon loaf pan or a regular pan lined with parchment paper.

Bake in an preheated oven for 40-50 minutes. Allow to cool for 5-10 minutes then turn out to cool fully on a cooling rack.
Did you make keto nut and dairy-free protein bread recipe? If so, please let me know how it turned out in the comments. Or if you share pics of your creations on Instagram, please tag me so I can see them. Enjoy!