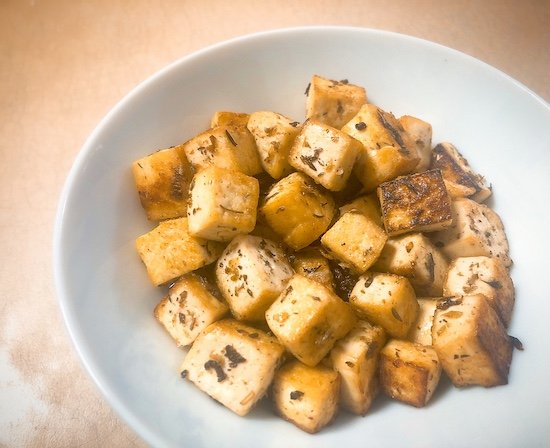 Tofu doesn't need to be limited to Asian cuisine. With the right kind of seasoning and preparation, it can work for any style of cooking. I threw together this Mediterranean-style marinade for keto-friendly crispy tofu cubes to be used in salads. It works great if your vegan or for those occasions when you want to cut back on animal protein a bit.
Keto Mediterranean Crispy Tofu Recipe
Ingredients:
Directions:
In a medium container, whisk together 1 tablespoon avocado oil, lemon juice, red wine vinegar, garlic, herbs, salt and pepper.

Add the tofu cubes. Shake until every cube is nicely coated with your marinade. Allow to marinate 30 minutes to 1 hour.

In a large non-stick pan, heat the remaining oil, and gently fry the tofu cubes, rotating gently to ensure all the sides have a crispy coating.

If desired, once done, place tofu cubes on a plate lined with paper towel to soak up excess oil. I do this if using in a carb-up meal, but don't bother if it's a keto meal. Add to salads, cauliflower rice bowls or lettuce wraps.
Did you try this vegan keto Mediterranean crispy tofu recipe out? If so, let me know how it went in the comments, or tag me in any photos you share on Instagram so I can see your creation.