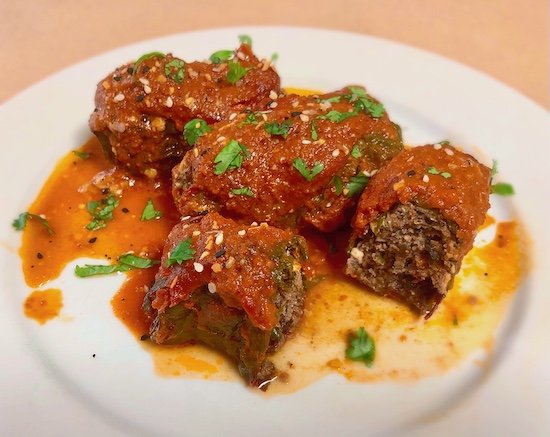 I like cabbage rolls. I like the middle eastern flavour profile. I had a bunch of chard leaves kicking around. You know what comes next... a keto-friendly middle east inspired beef and feta stuffed chard leaves recipe! Use what you've got in the house, add inspiration, and voila! You get a dish you may never have thought of that's delicious, nutritious and satisfying to boot.
Keto Middle East Inspired Beef and Feta Stuffed Chard Leaves Recipe
Ingredients:
Tomato Sauce Ingredients:
Garnish Ingredients
Directions:
Bring a large pot of lightly salted water to a boil. Set a bowl of ice water next to the pot. Cut stems of chard stalks off at the base of each leaf, leaving center rib intact. Blanch chard leaves in boiling water until soft and flexible but not so tender that they will tear, about 1 minute. Shock the chard in the ice bath and then dry with paper towels.

Preheat oven to 375F. Squeeze out all the water from the cooked mushrooms. In a large mixing bowl, combine the mushrooms with the onion powder, garlic, sesame seeds, parsley, oregano, sumac, salt, pepper, allspice, ¾ teaspoon cinnamon, clove in a large bowl until combined. Divide into even portions for each chard leaf you have, and shape into mini meat loaf shapes.

Spray a 9x11" casserole dish with cooking spray. Stir in ¼ teaspoon cinnamon into the tomato sauce. Spread ½ cup tomato sauce in the bottom of the baking dish.

Lay chard leaf on a clean work surface. Place portion of meat mixture widthwise, toward one end of the chard leaf. Wrap the meat up with the chard leaf by tucking in sides and rolling up into a tight little bundle. Place seam side down in the baking dish. Repeat with the remaining chard and filling. Pour the remaining tomato sauce on top of the chard rolls. Cover with a silicon mat.

Transfer to the oven and bake until the beef mixture is heated through and reaches 160F when tested with an instant read thermometer, around 30-35 minutes.
Did you make this keto middle east inspired beef and feta stuffed chard leaves recipe? If so, how did it go? Please share your thoughts in the comments. Or if you share pics of your creations on Instagram, please tag me so I can see them. Enjoy! :)