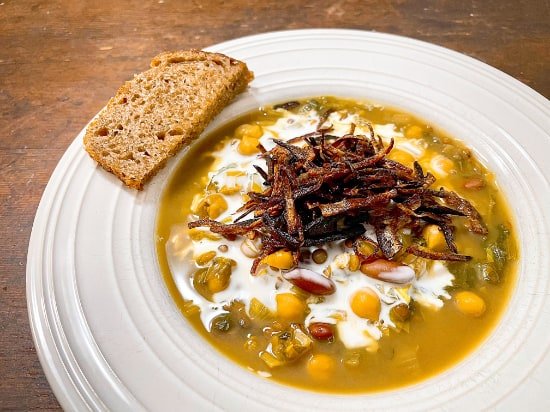 Time for a soup carb-up! If you're looking to get more beans in your diet, with a variety of textures and flavours, this mixed beans and greens soup with salted yogurt and sizzled mint is your recipe! A hearty, sumptuous meal that truly satisfies.
Vegan Carb-Up Mixed Beans and Greens Soup with Salted Yogurt and Sizzled Mint Recipe
Soup Ingredients:
2 teaspoons avocado oil
3 cups onion, finely chopped
3 garlic cloves, finely grated
1 can 15 oz can kidney beans, rinsed and drained, or 1½ cups cooked kidney beans
1 15 oz can cooked chick peas, drained and rinsed or 1½ cups cooked chick peas
6 cups water
1 teaspoon ground turmeric
¼ cup dried green lentils, soaked for 10 hours in 1 cup water and 1 tablespoon vinegar, rinsed and drained
5oz baby spinach (about 7 cups) or mustard greens, chopped
1 cup fresh cilantro, chopped
1 tablespoon nutritional yeast
1 cup fresh parsley, chopped
½ cup fresh dill, chopped
2 tablespoons lemon juice, freshly squeezed
Kosher salt and freshly cracked freshly ground black pepper, to taste
Topping Ingredients:
Directions:
Heat 2 teaspoons avocado oil in a large pot over medium. Add onion and cook, stirring occasionally, until golden brown and soft, 6–8 minutes (*If it gets a little dry, use a little cooking spray to keep the onions from sticking, so as to not add too much fat if you're concerned about it.) Add garlic and and turmeric and cook, stirring, until fragrant, about 2 minutes.

Add water and bring to a boil. Add lentils and cook, stirring occasionally, until lentils are tender, around 10 minutes.

While lentils are simmering, heat 2 tablespoons avocado oil in a medium skillet over medium-high. Add onion and cook, stirring often, until golden, 6–8 minutes. Reduce heat to medium and cook, stirring occasionally, until onions are slightly charred and crisp, 14–16 minutes; season with salt. Transfer onions to a plate; cover with foil to keep warm.

To the soup, add chick peas, red kidney beans, spinach, cilantro, parsley, and dill and cook until greens are just wilted and have slightly darkened, 4–6 minutes. Stir in lemon juice; season with salt and pepper.

Meanwhile, mix yogurt, non-dairy milk and cider vinegar in a small bowl; season with salt. (It should have the consistency of heavy cream.)

Wipe out skillet and heat remaining 1 tablespoon oil over medium. Add mint and cook, stirring often, until mint oil is fragrant and slightly darkened, about 1 minute. Transfer to a small bowl or measuring cup.

Divide soup among bowls and pour yogurt mixture over soup. Drizzle mint oil over soup, then top with fried onions.
Did you make this vegan carb-up mixed beans and greens Soup with salted yogurt and sizzled mint recipe? Please let me know how it turned out in the comments. Or if you share pics of your creations on Instagram, please tag me so I can see them. Enjoy! :)