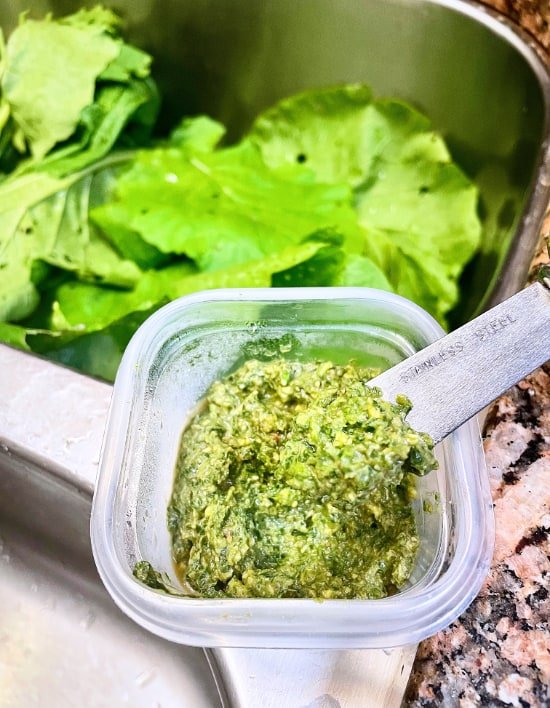 The other day, my mom asked me if I had any recipes that could use up a lot of mustard greens and garlic scapes. She has a lot of them in her garden and they are growing like crazy right now. I noticed my mom had some pine nuts in her cupboard so I wondered how well they might work as a base for a pesto. I worked great, though I didn't realize just how much kick mustard greens had on their own. While I added a tiny amount of chili flakes to my own batch, if you prefer a little less kick, definitely leave them out.
Keto Spicy Mustard Green Pesto Recipe
Directions:
Place the nuts, nutritional yeast and garlic scapes in a food processor fitted with a steel blade or a high-powered blender. Process until coarsely chopped about 10 seconds.

Add the mustard greens, basil leaves, salt, pepper and chili flakes and process until mixture resembles a paste, about 1 minute.

With the processor running, slowly pour the olive oil through the top and process until the pesto is thoroughly blended.

Add the cheese and process a minute more. Use pesto immediately or store in a tightly sealed jar or container, covered with a thin layer of olive oil (this seals out the air and prevents the pesto from oxidizing, which would turn it an ugly brown color). Store in the fridge for about a week. You can also freeze it in a sealed container or into cubes and store in a freezer bag in the freezer for up to 6 months.
Did you make this keto spicy mustard greens pesto recipe? If so, please let me know how it turned out in the comments. Or if you share pics of your creations on Instagram, please tag me so I can see them. Enjoy! :)