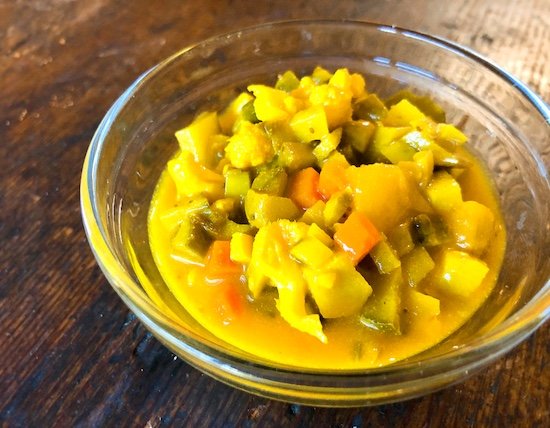 Mustard pickles are a sweet tangy preserve that is often served as a condiment roast ham or roast beef. While they're called "pickles", I find they're usually chopped into smaller pieces than you would expect from pickles usually, and their sweetness is reminiscent of a relish, even with the mustard flavour. Either way, this version of the classic mustard pickles recipe substitutes the sugar with erithrytol and stevia to make this a low-carb and sugar-free, making it a great keto-friendly condiment for roast meats, crackers or a charcuterie platter.
Keto Mustard Pickles Recipe
Ingredients:
Directions:
Combine cucumbers and onion with salt in a large mixing bowl. Cover completely with cold water and soak for 4-5 hours or overnight. Rinse and drain twice to remove the salt.

In a medium mixing bowl, whisk together the spices, erithrytol, and glucomannan or xanthum gum together in a bowl. Whisk in the cold water and stir to form a slurry.

Heat the vinegar in a large stockpot until almost boiling. Whisk in the slurry slowly, then bring to a boil and simmer, stirring until thickened.

Add the cucumber, onions and rest of the veggies, and cook over medium heat for 10-12 minutes.
Turn down heat down to a minimum, cover, and simmer for 1 hour. Remove from heat. Add liquid stevia to taste then allow to cool to room temperature. Add to sterilized canning jars. You can then can them the traditional way so they can be stored without refrigeration, or close them up and put them in the fridge. If you do this, they're good in the fridge for up to 3 months.
Did you make this keto mustard pickles recipe? If so, please let me know how it turned out in the comments. Or if you share pics of your creations on Instagram, please tag me so I can see them. Enjoy! :)