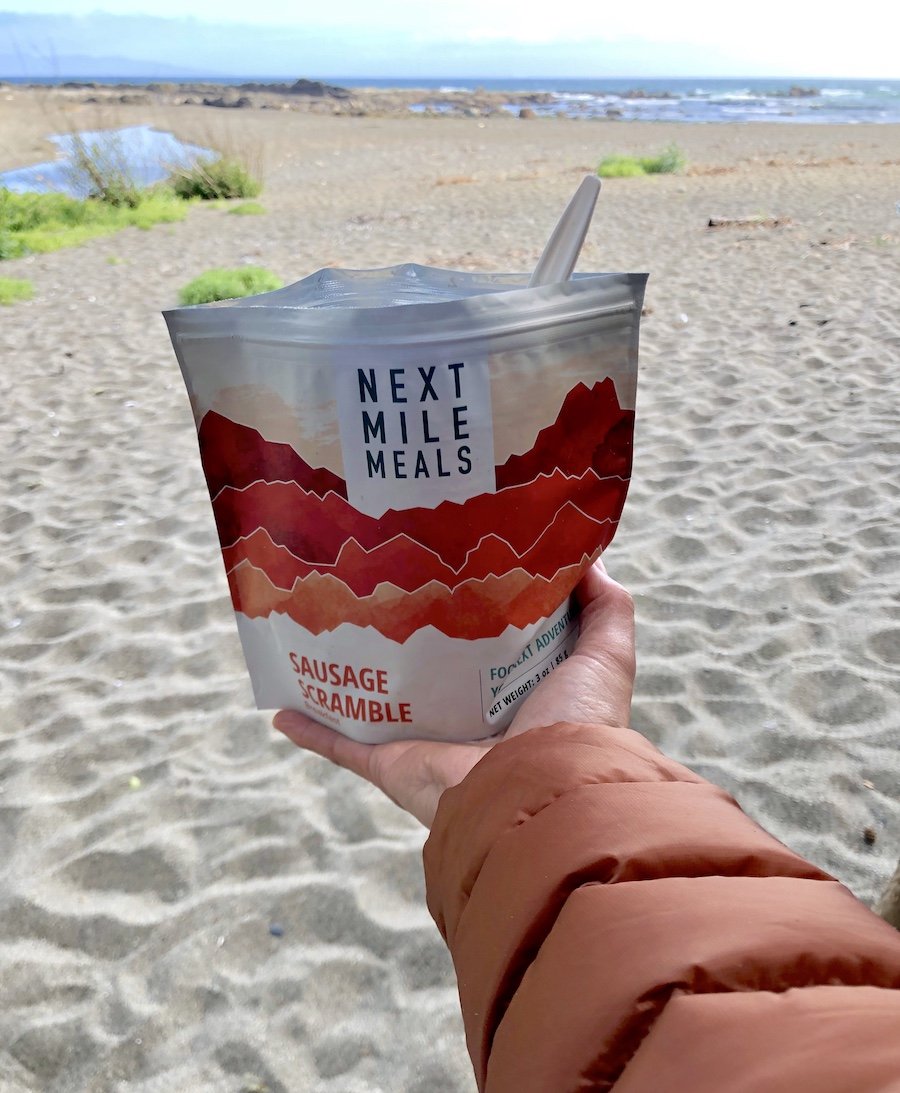 If you've ever walked into an MEC or an REI to get backpacking food, you've undoubtedly walked up and down rows and rows of carb/sugar-laden dehydrated backpacking meals with not a scrap of food that's suitable for a keto hiker other than the odd bag of moon cheese. This is a problem to which Jessie, founder of Next Mile Meals, whom I interviewed on my blog a couple of weeks back, set out to provide a solution.
Jessie conceived her entire line of backpacking meals with the keto hiker in mind, dehydrated, boil-in-bag meals that are high fat, low carbs, moderate protein. Her first 6 dinner entrees that she released were recipes that she ate on the trail herself on her hike of the Pacific Crest Trail, which she tweaked over the 2600+ miles she travelled. Now her company also offers two breakfast meals as well, and she's working on adding keto trail snacks in the future too.
Full disclosure: Jessie offered me one free entree and a discount on any others I wanted to order. I ended up trying three of them, Italian Meatball, Buffalo Ranch Chicken and Sausage Scramble.
Next Mile Meal Trail Test #1: Buffalo Ranch Chicken
The first one I tried was the Buffalo Ranch Chicken. The night I tried it on the West Coast Trail, I had arrived at the campsite late and didn't get around to prepping my meal until after 10pm. By then, I was famished and in a rush to eat. I hurriedly set up my stove without much of a windbreak. So while I was able to get my stove going, it only got the water as warm as hot tap water. I used the water anyway to make my meal. I let it soak in but it wasn't very hot by the time it was ready to eat. I then looked for my spoon only to discover that I had lost it somewhere along the way. I had 2 mini keto tortillas that I had made at home and brought with me, and a couple of tablespoons of blue cheese crumbles, but no way to spoon it all together. In the end I poured the blue cheese into the bag, along with the packet of Kraft ranch dressing that came with it, and did my best to use the tortillas to swipe up the contents of the bag. It didn't work that well and I ended up eating pretty much the whole thing with my hands. It was a complete mess, but it was still tasty.
My only real issue with the Buffalo Ranch Chicken was the inclusion of the packet of Kraft Ranch, which is made a number of not-so-healthy ingredients, including soybean oil, canola oil and sugar. It also adds a layer of unnecessary packaging, which is just another piece of wasted plastic and something else that needs to be carried out at the end of the day. I would just as soon see more of the other powdered seasonings rather than use a packet of Kraft Ranch.
Next Mile Meal Trail Test #2: Sausage Scramble
Because I'm an intermittent faster, I usually only have coffee in the morning, but that doesn't mean that I can't enjoy a "breakfast" meal for dinner as I ended up doing the second night. The weather conditions were super windy and I had real trouble just getting my Esbit cube started, let alone channel its heat effectively. My Sausage Scramble also ended up being lukewarm by the time I got to eat it, but it really didn't matter. It was delicious despite not being fully hot, just like the meal the night before. While it wasn't super hot, the cheese was still melty and everything had a good texture.
I managed to score a plastic fork from the Crab Shack from my breakfast, which meant I didn't have to eat my second NMM meal with my hands. After a few bites of it on its own, I tried it with some added butter powder and garlic seasoning blend. The combination worked well, but it didn't need it to be enjoyable. It was, however, nice to know that I could add some butter powder for extra calories and have it work.
Next Mile Meal Trail Test #3: Italian Meatball
For my final meal, I was determined to eat it hot, or at least the temperature at which it was designed to be eaten. I created a proper windbreak using a bunch of rocks and a log, and managed to block out the wind and keep the heat channeling up into the pot. I got a full boil and success: a hot Italian Meatball meal, and with proper cutlery to boot! I eagerly dived into the bag with my fork and took my first bite... AH-mazing. It was my favourite of the three, and not simply because it was hot. It is perfectly seasoned and the textures and tastes blend together perfectly. It was simply divine. I would suggest packing a bit of Parmesan cheese to throw in too to add in a few more calories. I didn't, but think it would be an awesome addition.
The Overall Next Mile Meal Experience
I am quite happy with the packaging Jessie chose for her meals. It was just big enough for the meal without needing an extra long spoon/spork to eat from the bag. I used the simple disposable fork that I got from the Crab Shack and it worked just fine. The smaller bag makes it lighter, a fact that I appreciate being an ultralight "gram weenie."
If you want to dispense with the stove and cold soak, I feel pretty confident that the NMM would be still be tasty. Since there are no noodles or rice that need to be soaked for a really long time, you could probably get away with cold soaking for only 10-20 minutes before it's edible.
My only regret is that I didn't buy one of every meal so I could try them all. The reason I didn't is that they do come with a hefty price tag: $14/meal for the dinner entrees, and $9/meal for the breakfast meals. I get it though. Jessie, uses mostly high quality ingredients, and we all know that fat and protein is more expensive than carbs. You have to expect to pay a premium for the meals to be keto-friendly. If you want the best price for calories consumed, the Sausage Scramble is your best bet, at 530 calories for $9, but then who wants to eat a single meal for an entire trip? If you can, however, afford to pay for the more expensive entrees, they are worth the money if you don't want to go through the hassle of dehydrating your own camp meals.
So if you're a keto hiker like me, but don't want to dehydrate all your meals yourself, or want to make some of your own, but invest in a few Next Mile Meals to give yourself some variety, give Jessie's line of keto backpacking food a try. If you need extra incentive, Jessie has kindly provided a coupon code for 10% off any single meals. Act fast though! This coupon is only good until July 13, 2019. (*Note: NMM only ships to the US, so if you're ordering from Canada, you'll need to use a shipping service across the border to get yours.)