I recently spend a day and a night in Portland with a friend. We decided to do our best to find and experience three different food trucks, for which Portland is famous, at which to dine while there. After doing a little research, I found a few options that looked and sounded delicious, and could qualify as keto friendly.
Located at a food truck pod known as The Bite on Belmont, Viking Soul Food delivers what it promises, Norwegian comfort food that soothes the soul. We ordered their Norwegian meatballs in caramelized goat cheese gravy with pickled cabbage, an awesome, 1-2 punch for low-carbers. The goat cheese gravy coating their perfectly cooked, moist meatballs is a divine combination of fatty meat and gravy. The pickled cabbage accompanying them, another keto-friendly food, was also delicious. It is just so nice to be able to order a meal and not have any wasted carbs left on my plate after.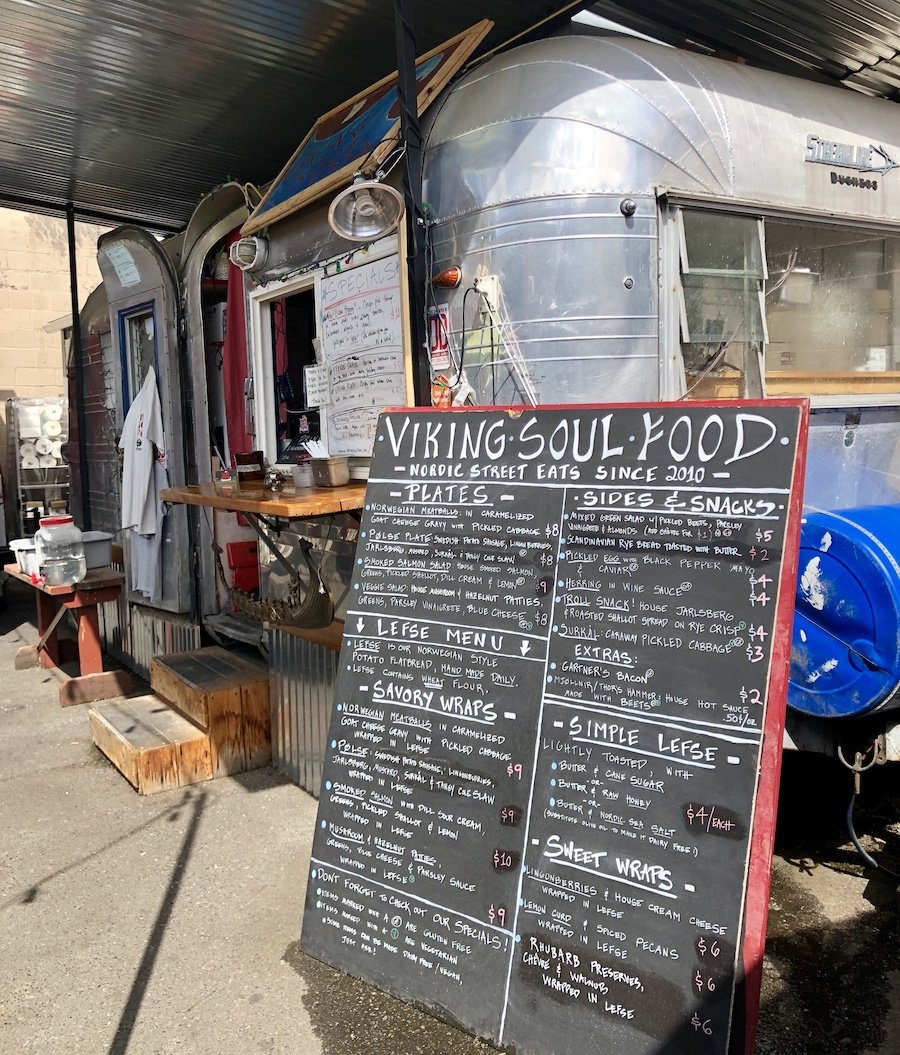 I definitely want to go back some time and sample a few other keto-friendly options on their menu, including: smoked salmon salad with house-smoked salmon, greens, pickled shallot, dill cream and lemon, their veggie salad with house mushroom & hazelnut patties, greens, parsley vinaigrette, blue cheese, along with a couple of appealing sides/snacks like their herring in wine sauce and their pickled egg with black pepper and caviar.
Namu Korean-Hawaiian (https://namufoodcart.com)
Also located at a food truck pod known as The Bite on Belmont, Namu offers a few dishes that, with a little tweaking, qualify as keto. We tried the gogi breakfast plate with Kalua pork for $10, 2 fried eggs and sauce over rice. No, the rice isn't very keto, and I would have asked to sub it out, but since my friend with whom I was sharing it isn't doing keto, I just left it for her to eat. The eggs, pork and sauce all blended so well together.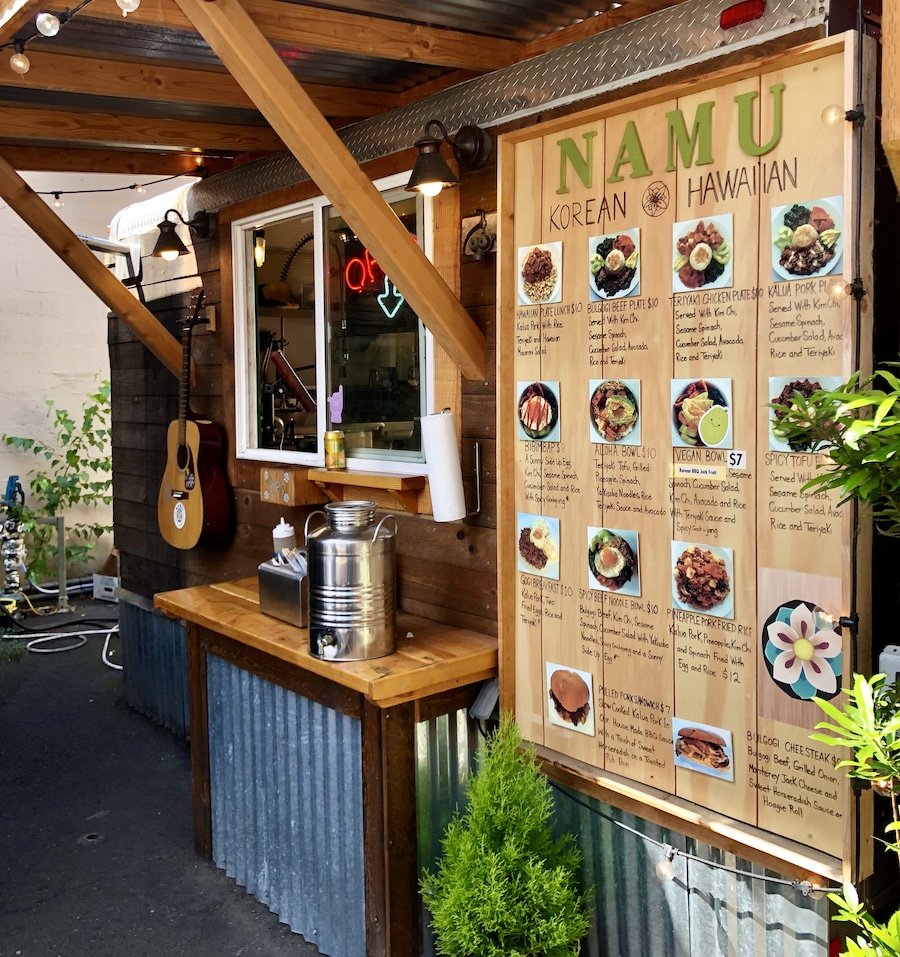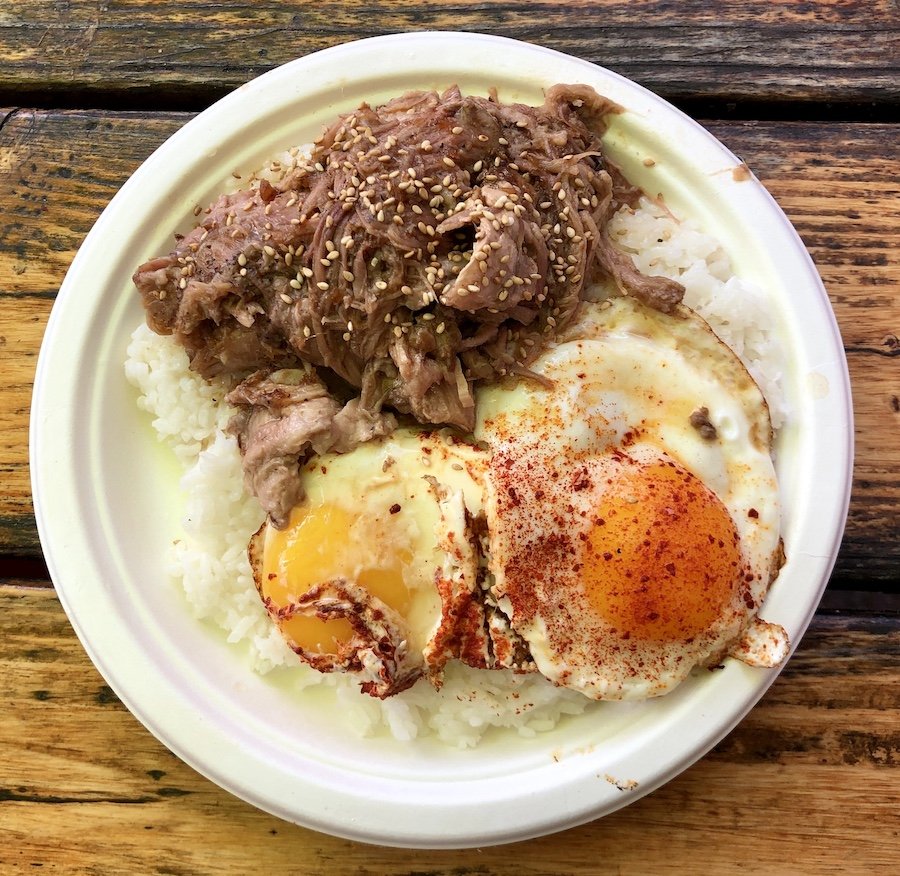 Many of the other dishes would make for good keto choices, omitting the rice. This includes the bulgogi beef plate. the spicy tofu plate, and the kalua pork plate, which all only cost $10/plate. I didn't ask, but it's always worth it to see if the server will dish out a few more veggies in place of the rice, so you get more good stuff if you're following a keto lifestyle.
Nong's Khao Man Gai (http://khaomangai.com)
While two of Nong's locations are now brick-and-mortar stores, Nong did start out and earn her reputation from within Portland's food truck scene. We tried the dish that made her famous, her khao man gai (chicken and rice) with chicken poached in chicken stock and Thai herbs, served with fermented soy beans,, ginger, garlic, Thai chilies, vinegar, house made syrup and soy sauce, garnished with cucumbers and cilantro and accompanied with a light soup. Being keto, you'll want to pay an extra $2 for the paleo version which omits the rice and adds extra veggies. There are some great keto add-ins too, like the fried chicken skins for an extra $2, which are limited in supply (sold out on the day we went, sadly), as well as organic chicken livers for an extra $3.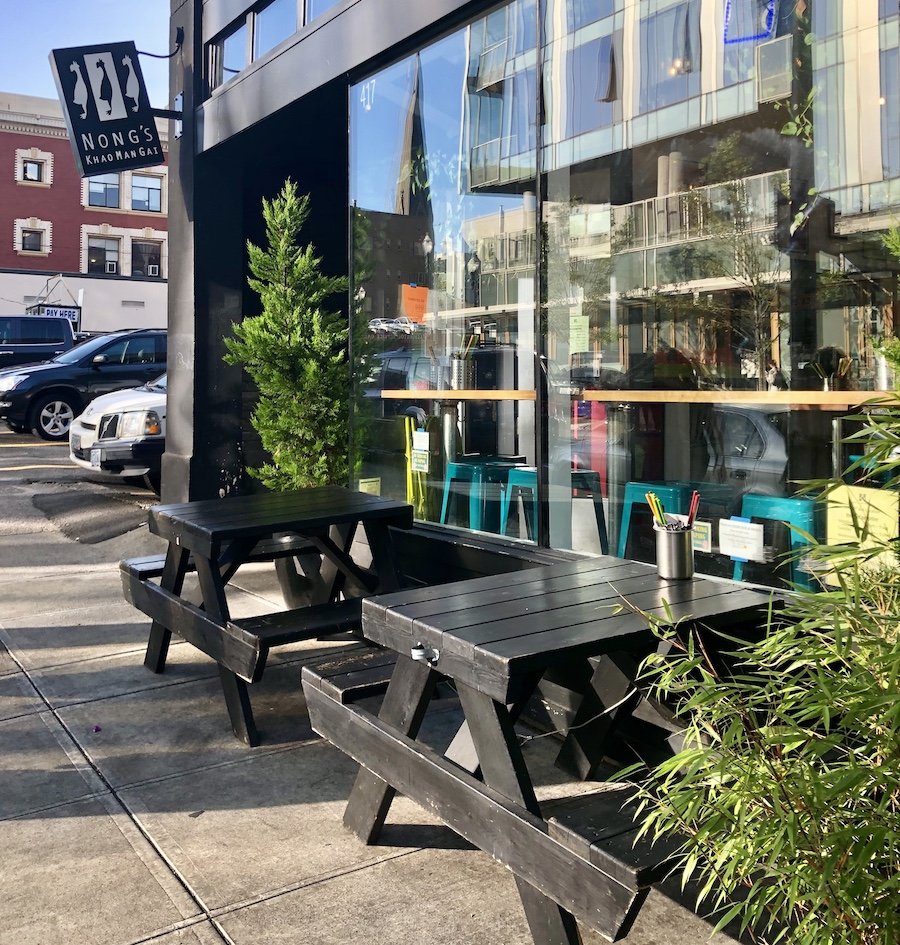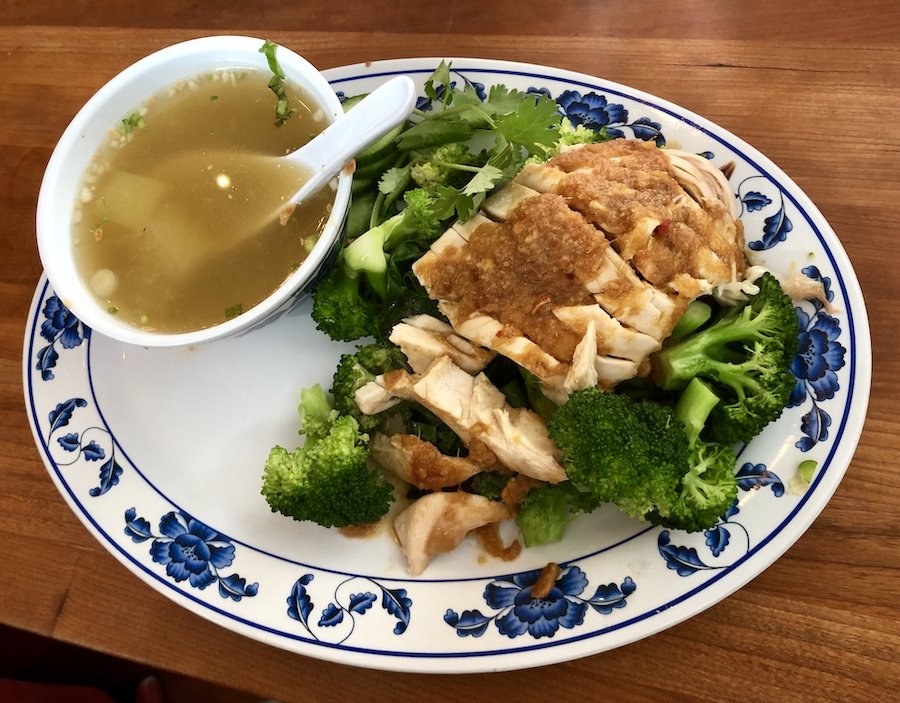 Nong also offers the same dish in a vegetarian chicken. There is also a pork and rice dish (khao kha muu) and a house made peanut sauce chicken or tofu dish, all of which can be ordered paleo, without rice and more veggies for an extra $2. The gai saam yang, a spicy peanut bowl with green onion, Thai chilli, ginger and lime, also looks like a tasty, low-carb option for only $4, if you're looking for a snack.