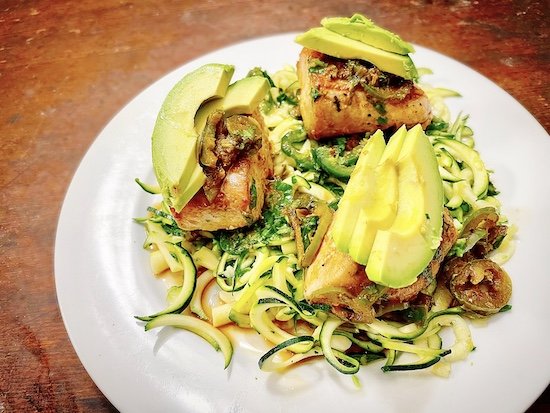 After receiving some frozen tuna caught by some friends, I wanted to use it in a special way since it's not something I eat a lot. I decided to pan-fry it, marrying it with cilantro, ginger and lime and topped it with avocado, to create this satisfying wholesome dish that Chris and I both enjoyed.
Keto Pan-Seared Cilantro Ginger Lime Tuna with Avocado Recipe
Ingredients:
½ cup fresh cilantro leaves, finely chopped
2 small jalapeño peppers, sliced
1 tablespoon fresh ginger, minced
3 garlic cloves, grated
¼ cup lime juice, freshly squeezed
⅛ teaspoon Lakanto granulated monk fruit sweetener
Kosher salt and freshly ground black pepper, to taste
⅓ cup avocado oil
Two 6-oz blocks of tuna
2 small avocados, halved, peeled, pitted, and sliced
Directions:
In a mixing bowl, combine the cilantro, jalapeno, ginger, garlic, lime juice, tamari soy sauce, sweetener, salt, pepper, and avocado oil (saving 2 tablespoons for cooking). Stir the ingredients together until well incorporated.

Place a skillet over medium heat and coat with the remaining 2 tablespoons of avocado oil. Season the tuna generously with salt and pepper. Lay the tuna in the hot oil and sear for 2 minutes on each side to form a crust. Pour ½ of the cilantro mixture into the pan to coat the fish and remove from heat

Serve the seared tuna over cauliflower rice or zucchini noodles. Drizzle the entire plate with the remaining sauce and top with sliced avocado.
Did you make this keto pan-seared cilantro ginger lime tuna with avocado recipe? If so, please let me know how it turned out in the comments. Or if you share pics of your creations on Instagram, please tag me so I can see them. Enjoy! :)