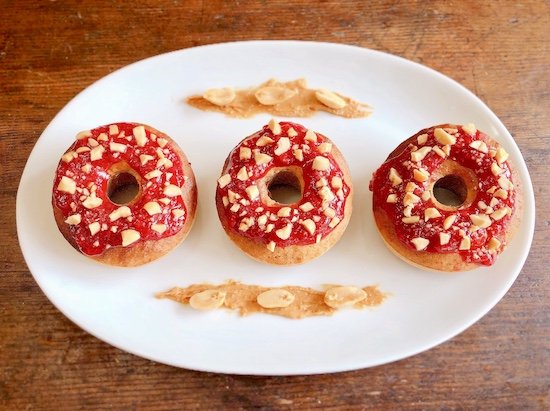 Today is National Doughnut Day, and rather than feel left out of being able to partake in the free donuts being offered at various restaurants and coffee shops, I decided to make my own keto donuts so the feelings of FOMO don't kick in. Today, I made low-carb peanut butter and jelly donuts. They are sugar-free (other than what's naturally occurring in the strawberries), gluten-free and baked to perfection. Yes, donuts can be keto, healthy, and still delicious, so whip up a batch of these and celebrate National Doughnut Day!
Keto Peanut Butter & Jelly Doughnut Recipe
Peanut Butter Doughnut Ingredients:
Strawberry Jelly Topping Ingredients:
Directions:
In a large mixing bowl, whisk together ground chia seeds and water and set aside for 10 minutes.

Preheat oven to 350F. While you wait, whisk together all dry ingredients in a medium mixing bowl.

Add the egg, peanut butter, vanilla, and liquid stevia to the bowl with the ground chia and water mix and whisk until fully incorporated.

Add dry ingredients to the wet ones and fold together using a spatula until fully incorporated.

Add almond milk to the batter and stir together until fully incorporated and consistent. Spoon batter into a silicon donut mould. If using a metal mould, spray with cooking spray first. Bake in preheated oven for 13-15 minutes. Remove donuts from oven and allow to cool on a cooling rack for 5 minutes then remove the donuts from the mould and allow to fully cool on the baking rack.

While the donuts are cooling, make the glaze. In a small saucepan, combine the strawberries, sweetener and water and heat on a stove over medium heat. Bring to a simmer then reduce to medium-low and cook for 5 minutes, mashing up the strawberries with a fork as you go and stirring frequently. Turn off the heat.

Combine gelatin with ½ tablespoon cold water, and let it stand for 5 minutes, then add the mixture to the still warm berry puree. Let it thicken a little, then drizzle over the donuts. (*Note: If the gelatin thickens the puree too much, warm it up in the microwave before use.) Sprinkle chopped peanuts over the jelly, if desired. Makes 6 donuts.
Did you give this keto peanut butter and jelly donut recipe recipe a try? How did you like it? Please share your thoughts in the comments. And if you post any pics on Instagram, please tag me so I can see them. Enjoy! :)