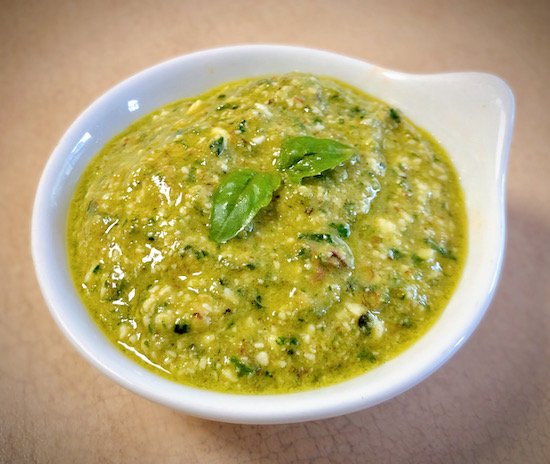 Looking for a tasty, low-carb way to work more healthy olive oil, nuts and leafy greens into your diet? Look no further than pesto! With this flex pesto sauce recipe as a base, you can change things up and try different ingredients in different combinations or make it vegan. The sky's the limit!
Keto Pesto Flex Sauce Recipe
Ingredients:
1/4 cup pine nuts (*May sub with walnuts, macadamia nuts, pecans, pistachio nuts, blanched almonds or pumpkin seeds. If using a larger like walnuts, almonds, etc, use ⅓ cup.)
2 large garlic cloves, roughly chopped
2 cups gently packed fresh basil leaves (*May sub other fresh greens like spinach, arugula, parsley, dandelion greens or watercress. Tougher leaves like kale, collard or chard leaves can also be used but they must be blanched in boiling salted water, rinsed and drained first.)
½ teaspoon sea salt
¼ teaspoon freshly ground black pepper
½ cup grated Parmigiano-Reggiano (*May sub with other hard, salty aged cheeses like Pecorino Romano, aged manchego, aged gouda, aged cheddar, cotija, aged Asiago. If making vegan, replace with ½ more nuts and a tablespoon of nutritional yeast, and a little extra salt.)
Additional sea salt and black pepper, to taste
A Few Pesto Flex Variations to Try:
Mexican Pesto:
Pumpkin seeds or blanched almonds
Cilantro and 1 jalapeño or serrano pepper, seeds and pith removed, chopped
Cotija cheese
Spanish Pesto:
Marcona almonds
Arugula
Aged Manchego cheese
1 tablespoon lemon zest
1 tablespoon lime juice
Directions:
Place the nuts and garlic in a food processor fitted with a steel blade or a high-powered blender. Process until coarsely chopped about 10 seconds.

Add the basil leaves (or other greens), salt, and pepper and process until mixture resembles a paste, about 1 minute.

With the processor running, slowly pour the olive oil through the top and process until the pesto is thoroughly blended.

Add the cheese and process a minute more. Use pesto immediately or store in a tightly sealed jar or container, covered with a thin layer of olive oil (this seals out the air and prevents the pesto from oxidizing, which would turn it an ugly brown color). Store in the fridge for about a week. You can also freeze it in a sealed container or into cubes and store in a freezer bag in the freezer for up to 6 months.
Did you make this keto pesto flex sauce recipe? If so, please let me know how it turned out in the comments. Or if you share pics of your creations on Instagram, please tag me so I can see them. Enjoy! :)