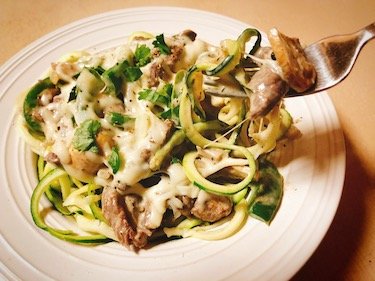 There are certain sandwiches that I miss on the keto diet but just don't really work wrapped in lettuce. The Philly cheesesteak sandwich is one. Sure, you can do it on keto bread, but I always find them lacking, especially ones traditionally served in a hoagie-style bun. Better to just take the flavours I like from the sandwich and turn it into something else... hence this recipe. It hits all the right flavour notes but still gives some good texture with the zucchini noodles while adding low-carb veggies that don't overpower taste.
Keto Philly Cheesesteak Zucchini Noodles Recipe
Ingredients:
1lb stewing beef, thinly sliced
1 medium green pepper, sliced
½ cup yellow onion, sliced
1 cup white mushrooms, sliced
4 cloves garlic, minced
⅓ cup butter, unsalted
1 teaspoon dried thyme
½ cup bone broth (*beef bone broth if available)
½ teaspoon xanthum gum
¼ cup heavy cream
⅓ cup cream cheese
½ teaspoon hot sauce
4 small zucchini, made into zucchini noodles (or 6 cups zucchini noodles)
Fresh parsley, chopped (for garnish)
⅔ cup provolone cheese, grated (*may swap with fontina)
Himalayan pink sea salt and freshly ground black pepper, to taste
Directions:
Bring beef to room temperature and season with salt and pepper.

Heat a skillet to medium high heat. Melt 2 tablespoons butter and add beef slices in an even layer. Allow to cook undisturbed for 1 minute then stir and cook a further 30 seconds to a minute. Remove beef from pan.

Add remaining butter to skillet. Once melted, add onions, green peppers, and mushrooms. Cook, stirring occasionally, 3 minutes or so, until tender and mushrooms have browned. Season with thyme and a pinch of salt and pepper.

Reduce heat to low. Add bone broth to skillet along with xanthum gum dissolved in 3 tablespoons of the broth. Whisk into skillet and cook for 2 minutes or until slightly thickened.

Add heavy cream, cream cheese and hot sauce, then stir until melted and fully incorporated into sauce.

Heat the zucchini noodles in the microwave for 2 minutes then divide into 1½ cup servings in 4 pasta bowls. Top each with ¼ the Philly cheesesteak mixture. Season with salt and pepper to taste and top with cheese and chopped parsley. Serves 4.
Do you have any favourite sandwiches that you would like to see converted to a zucchini noodle recipe? Please let me know in the comments. If you try this recipe out, let me know how it goes there too. And of course, if you post any pics of your creation on Instagram, hit me up with a tag so I can see your fine work. :)