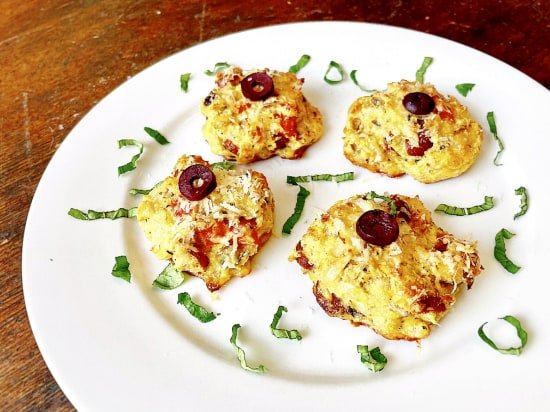 I wanted to make a tasty hand food that we could easily eat on the road on our 4-day cross-country move. I decided to make a keto "fast food" that could be eaten without needing to be heated up, quickly zapped in a microwave in a motel. These keto-friendly pizza biscuits were the perfect solution for meals on the road!
Keto Pizza Biscuits Recipe
Ingredients:
Directions:
Preheat oven to 350F. Cover a baking sheet with parchment paper or silicone mat. Heat avocado oil in a skillet to medium. Sauté onions and peppers until softened, around 3-4 minutes Take off heat and let cool.

In the meantime, add coconut flour, almond flour (or lupin flour), flax, basil, oregano, salt, pepper and baking powder to a bowl and mix.

In a separate bowl, beat eggs, then stir in the mozzarella cheese and half the parmesan. Add to the flour mixture and mix well. Stir in the pepperoni, peppers and onion. Chill the dough for 10 minutes to allow the flour time to absorb the moisture.

Using a small cookie scoop, scoop the dough into 16 biscuits on a cookie sheet lined with a silpat mat or parchment paper. Sprinkle parmesan cheese on top and place an olive slice on each cookie. Bake 18-20 minutes until golden brown. Allow to cool on a cooling rack. Store in the fridge or freezer.
Did you make this keto pizza biscuits recipe? If so, please let me know how it turned out in the comments. Or if you share pics of your creations on Instagram, please tag me so I can see them. Enjoy! :)