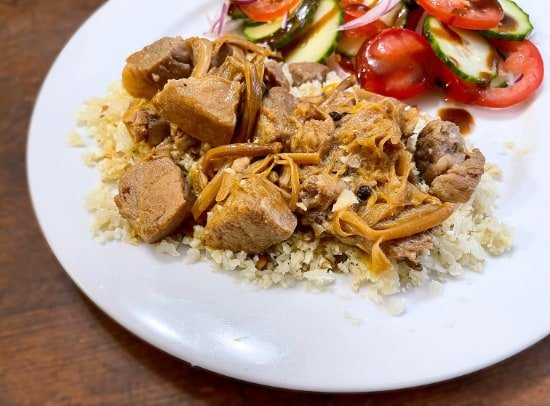 When I was young, meaty adobo dishes and their umami, sour sauce didn't appeal to me. My palette has since become much more robust so this keto-friendly pork adobo with banana blossoms recipe is now not only in line with my Filipino heritage, it's also in line with my taste buds.
Keto Filipino Pork Adobo with Banana Blossoms Recipe
Ingredients:
1 kg pork shoulder, pork belly or pork hocks, sliced into 5cm cubes (*If using pork with bone attached, use slightly more to account for the weight of the bones.)
2 tablespoons raw garlic, minced or crushed
¼ cup raw cider vinegar
1 tablespoon whole black peppercorns
2 cups water (or enough to mostly cover the pork)
½ cup dried banana blossoms (soaked in water for 20 minutes)
Fine sea salt, to taste
*Directions:
Sprinkle kosher salt over the surface of the pork and allow to sit for at least 1 hour (or overnight). Combine the pork, soy sauce, and garlic then marinade for at least 1 hour.

Heat a large pot to medium. Add the marinated pork then cook for a few minutes. Pour remaining marinade including garlic.

Add water, whole pepper corn, and dried bay leaves then bring to a boil. Simmer for 40 minutes to 1 hour

Add enough water to cover the entire mixture. Cover and cook until pork is tender. Let it simmer in low fire until sauce is reduced.

Toss in the banana blossoms, add one cup of water and cook for another 10 minutes.

Put-in the vinegar and simmer for 12 to 15 minutes. Season with salt to taste. Serve hot over cauliflower rice.
Did you try this keto Filipino pork adobo with banana blossoms recipe out? If so, let me know how it went in the comments, or tag me in any photos you share on Instagram so I can see your creation. Enjoy! :)