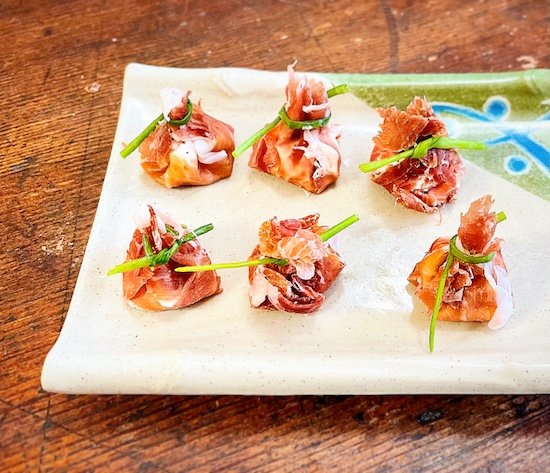 Looking for festive, low-carb appy ideas? You may not be holding any big holiday parties, but that doesn't mean you can't party with your own household bubble. Herbed cream cheese wrapped with delicious salted Italian meat... the perfect gift for the non-vegan, keto peeps in your life! Spring for the 30-year aged prosciutto and make it a real treat!
Keto Prociutto-Wrapped Holiday Parcels
2½oz brick cream cheese
2 slices prosciutto, cut into 2" square pieces
1 tablespoon oil-packed sun-dried tomatoes, drained , drained and finely chopped
1 teaspoon fresh chives, finely chopped
½ tablespoon whole chives, cut into 2" pieces
Large pinch fine sea salt
Large pinch freshly ground freshly ground black pepper
Directions:
Add the cream cheese to a mixing bowl. Finely chop two large sundried tomatoes and add to the bowl along with ½ tablespoon of chopped chives, salt and pepper. Mix well to combine.

Slice the prosciutto into 2" square pieces.

Divide the cheese mixture evenly between the prosciutto slices, creating a ball in the center of each. Carefully pinch the ham up around the cheese, forming a little bundle. Tie each one off with a piece of chive.
Did you make this keto prosciutto-wrapped holiday parcel appetizers recipe? If so, please let me know how it goes in the comments. Or if you share pics of your creations on Instagram, please tag me so I can see them. Enjoy! :)