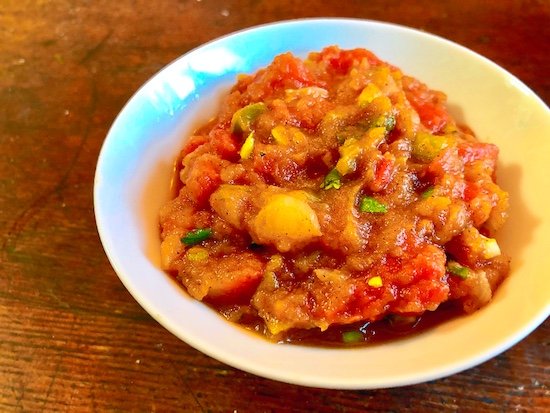 Looking for another way to use up your pumpkin purée? This pumpkin salsa recipe adds a sweet, caramel-like finish without compromising the traditional salsa flavours. You'll keep going back for more, even if it's just to figure out what your tastebuds are tasting. A great new party favourite for fall gatherings!
Keto Pumpkin Salsa Recipe
Ingredients:
1 tablespoon avocado oil
1 medium tomato, chopped
½ cup yellow onion, chopped
2 garlic cloves, minced
1-2 jalapeños, chopped, seeds and pith removed
One 28oz can of diced tomatoes, diced, drained
1 teaspoon kosher sea salt (or to taste)
¾ teaspoon Lakanto granulated monk fruit sweetener
1⅛ tsp ground cinnamon
¼ teaspoon ground ginger
⅛ teaspoon nutmeg, (freshly grated if possible)
⅛ teaspoon ground allspice
½ teaspoon chipotle sauce, or to taste (*optional)
¼ cup fresh cilantro, chopped
Directions:
Heat avocado oil over medium heat in a large skillet. Add fresh tomato, onions, garlic, and jalapeños and sauté until onions start to turn translucent.

Add canned tomatoes, pumpkin puree, salt, sweetener, and remaining spices. Bring to a simmer then turn to medium-low.

Simmer for 8-10 minutes. Remove from heat then stir in cilantro. Set aside and allow to cool. Store in an airtight container for up to 2 weeks.
Did you make this keto pumpkin salsa recipe? If so, please let me know how it turned out in the comments. Or if you share pics of your creations on Instagram, please tag me so I can see them. Enjoy! :)